Does your Ring doorbell's Wifi keep disconnecting? Changing the Ring doorbell's Wi-Fi connection is typically done when experiencing network issues or have gotten a new router to connect your doorbell.
A few days ago, I noticed that my Ring doorbell's WiFi was repeatedly disconnecting from my TP-Link router, so I changed the connection to another network, which seems to have fixed the problem.
Similarly, for whatever reason, you're trying to switch your Ring doorbell's Wifi network, I got you covered. Here, I walk you through step by step process to change your Ring doorbell's WiFi network, plus some tips for ensuring a stable connection. Let's Get Into It!
Can you Change Wifi Network On Ring Doorbell?
Absolutely! Ring doorbell's companion app lets you reconnect to your current Wifi network as well as gives you an option for completely switching to a different Wifi Network.
The network reconnecting and switching option is available for both Ring video doorbells and security cameras. However, it does not apply to Ring's alarm devices.
How to Change Wifi Network On Ring Doorbell? (Guide)
Step 1: Open Ring App & Locate Devices Option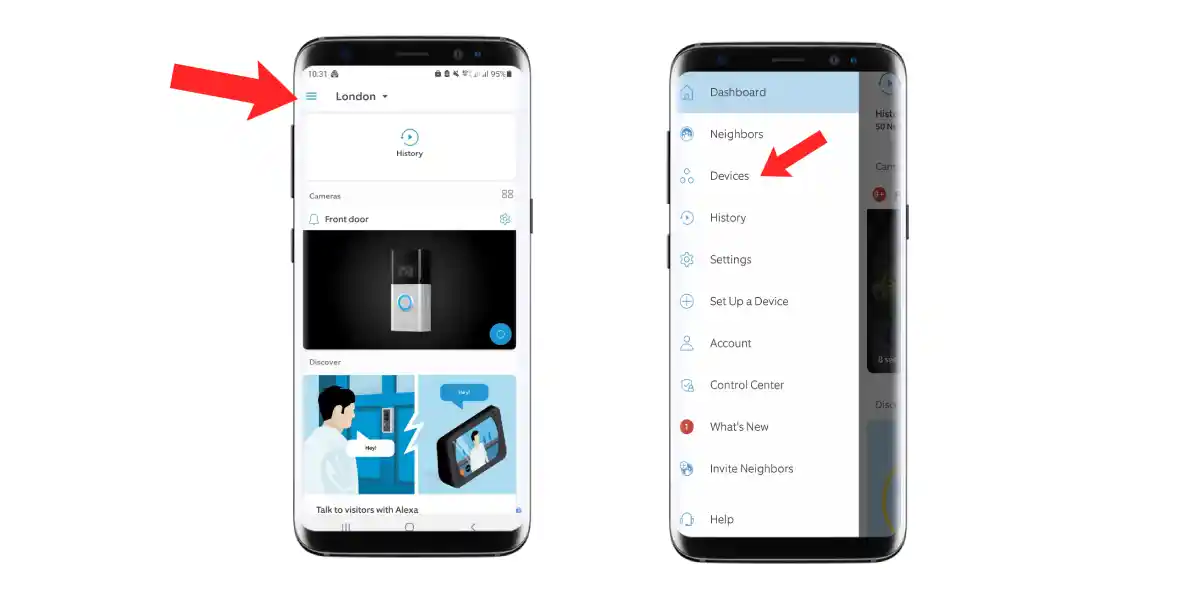 First, open the Ring companion app. To the top left, tap on the three lines that open up a navigational menu. From the list of options available, Select Devices.
Step 2: Select your Ring Doorbell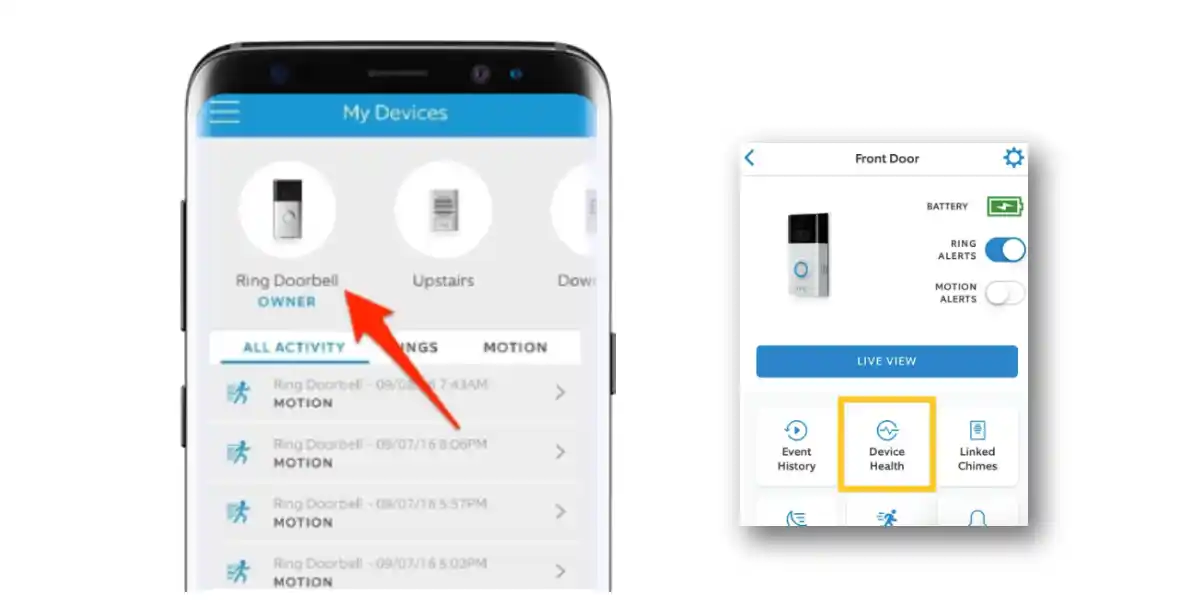 On this page, you'll find all Ring devices that are paired with the Ring app. Simply select Ring doorbell. On selecting your doorbell, you'll be redirected to the device dashboard.
Locate the Device Health option and tap on it.
Step 3: Change to New Wifi Network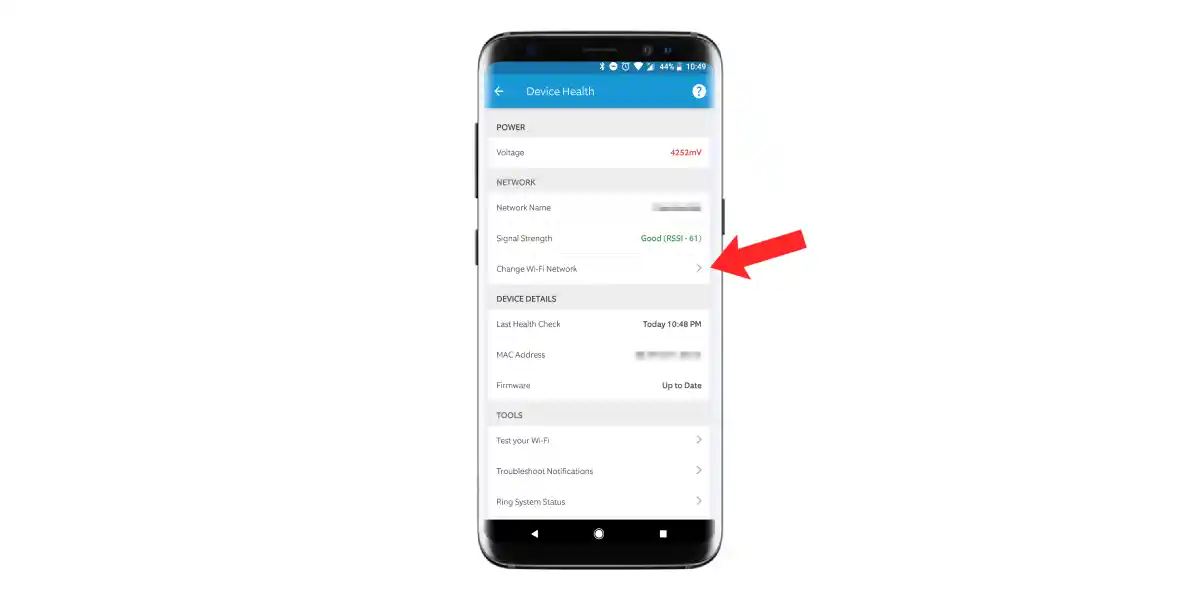 Under the Network section, you'll find all details regarding your current Wifi network along with an option to Reconnect or Change your Wifi Network. Tap on the Change Wifi Network option.
Follow the on-screen instructions to set up your new Wifi network.  
Once your device is changed to a new Wifi, return to the dashboard to check your Wifi signal. If the signal is still weak and gets disconnected automatically, there are a few other things to consider.
Tips to Improve Poor WiFi Signal On Ring Doorbells
Place Router In A Central Location
Weak signals can be caused by incorrect placement of the Wifi router. Try moving your router if it is behind a couch, in a closet, or otherwise physically obstructed.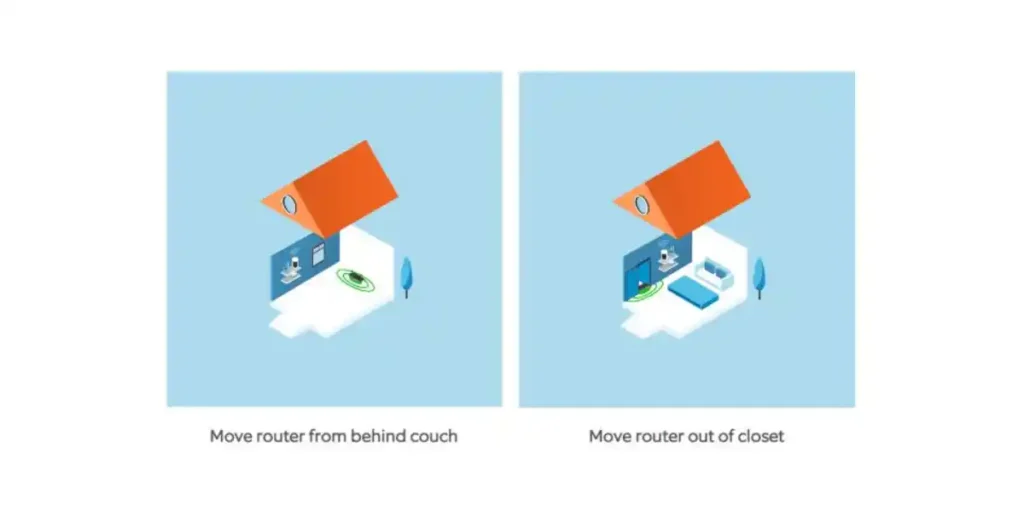 When the router is positioned in the center of the room, other devices will be less likely to interfere with the signal. Since the waves of signal follow a circular pattern, they will all come from the same direction.
Use Chime Pro As A Wifi Extender
If you want to extend the range of your WiFi router, you can use a Ring Chime pro. The device is an audible doorbell chime that also works as a wifi extender; uses your home's existing WiFi to extend the range of your Ring doorbell by up to 2,000 square feet. Sounds cool, right?
Hence, if your router is permanently positioned in an unmovable place, you might consider a Ring Chime Pro instead. So connecting to Ring Chime boosts performance by placing your router and Ring doorbell at a significant distance from each other.
Check Network Frequency Compatibility
There are Ring doorbells that are compatible with either 2.4 GHz or 5 GHz frequency networks. If you've recently upgraded to a 5GHz router, it might be a cause of network incompatibility issues.
Due to your device not being compatible with 5 GHz, you can't connect to the 5 GHz network after upgrading from 2.4 GHz to 5 GHz. If this is the case, connect instead to a 2.4 GHz network.
Here's the list of Ring Doorbells that Support 5 GHz networks:
Ring Video Doorbell 3
Ring Video Doorbell 3 Plus
Ring Video Doorbell 4
Ring Video Doorbell Pro
Ring Video Doorbell Pro 2
Ring Video Doorbell Elite
Check Battery Status
It is important for you to make sure that their Ring Doorbell's battery is charged. When a Ring doorbell's battery is low, it will cause connection issues with the WiFi network.
For hardwired Ring doorbells without batteries, make sure the device receives adequate power, you can check the Device Health section of the Ring app.
Here's how to check power status in both cases:
To check battery status, Open Ring App > ☰ Devices > Ring Doorbell > Device Health > Power Status.
FAQs On Changing Wifi On Ring Video Doorbell
What Is A Good WiFi Signal Strength for Ring Doorbell?
Ring recommends an RSSI between -65 and -41, and warns against constant RSSIs below -60. If you don't know, RSSI is a measure of the power of the received radio signal, which is used to determine the distance between a wireless device and a wireless access point.
What Is A Good Ring Doorbell WiFi Frequency?
Ring doorbell with a 2.4 GHz frequency network is comparatively slower than 5 GHz. If you're looking for a faster and more reliable connection, a 5 GHz frequency router will be a better choice.
---
Read More On Ring Doorbell