When it comes to improving the safety and security of your home, a Ring doorbell allows you to record and save video clips of visitors at your door. This provides evidence if someone has broken into your house, providing peace of mind as you can see who is at the door before opening it.
Despite the recording feature being so useful, Ring doesn't let its users save recorded videos without an active subscription plan. The only thing you can do is "live view" when there is motion.
If you're here, possibly you don't want to purchase the subscription and just want to save videos for free.
In that case, you're at the right place. Here I have shared some of the nifty tricks I use to save ring doorbell videos without a subscription. Below are some basic workarounds that might not be feasible for all, but there is no better alternative. Let's Dive In!
Can you Save Ring Doorbell Video Without A Subscription?
Unfortunately, the Ring doorbell does not allow users to save videos without a Ring Protect subscription. With a Ring Protect subscription, you can unlock premium features that include recording, saving, and sharing of videos.
Despite this, your Ring doorbell is not worthless without a subscription. You can still use features such as live view, motion alerts, two-way talking, and more.
Quick Look On Ring Subscriptions to Save Recorded Videos
The Ring Video Doorbells come with three types of Protect Plans; Basic, Plus, and Pro. Each of these plans unlocks some special features for Ring devices, including video doorbells too. Among these features are person alerts, rich notifications, bulk downloads, video saving/sharing, and more.
Let's take a closer look at the video features offered by each of these subscription plans:
Video Features
Basic
($3.99/month)
Plus
($10/month)
Pro
($20/month)
Recording
One doorbell or camera.
 All your Ring home devices.
All home devices, Ring Alarm pro monitoring, and more.
Video History
Up to 180 days
Up to 180 days
Up to 180 days
Saving/Sharing
Yes
Yes
Yes
Snapshot Capture
Yes
Yes
Yes
Person Alerts
Yes
Yes
Yes
Bulk Downloading
(up to 50)
Yes
Yes
Yes
Video Features of Ring Protect Plans
The basic plan will be the most suitable choice if you ever decide to subscribe since it includes all the doorbell video features you would need. Remember that the basic plan covers only one doorbell. In case you want it for multiple devices, go for the plus plan.
But Hey! We're here for saving videos without a subscription, right? Let's see how you can do it.
How to Save Ring Doorbell Video Without Subscription?
The most convenient way to save ring doorbell video without a subscription is to screen record it. Although it is completely free, this method will only work if you see an alert. For example, you cannot start a screen recording if your phone is in airplane mode since you don't receive any doorbell alerts.
Here's how to save Ring doorbell video using the screen recording method (no subscription):
Step 1: Install A Screen Recording App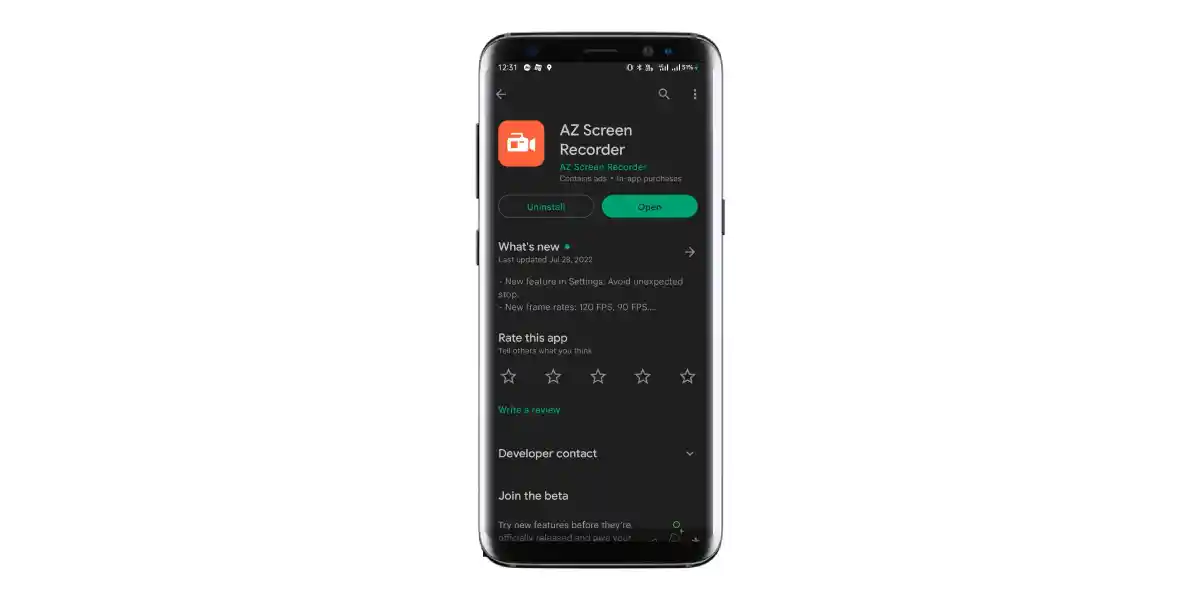 First, make sure your smartphone can screen record. You can either install third-party apps like AZ screen recorder or use your phone's built-in screen recording feature.
In this process, I'll install a third-party app called AZ screen recorder, available for Android only. If you're an iOS user, install an app called DU Recorder, suitable for screen recording and live streaming.
Step 2: Start Recording Your Screen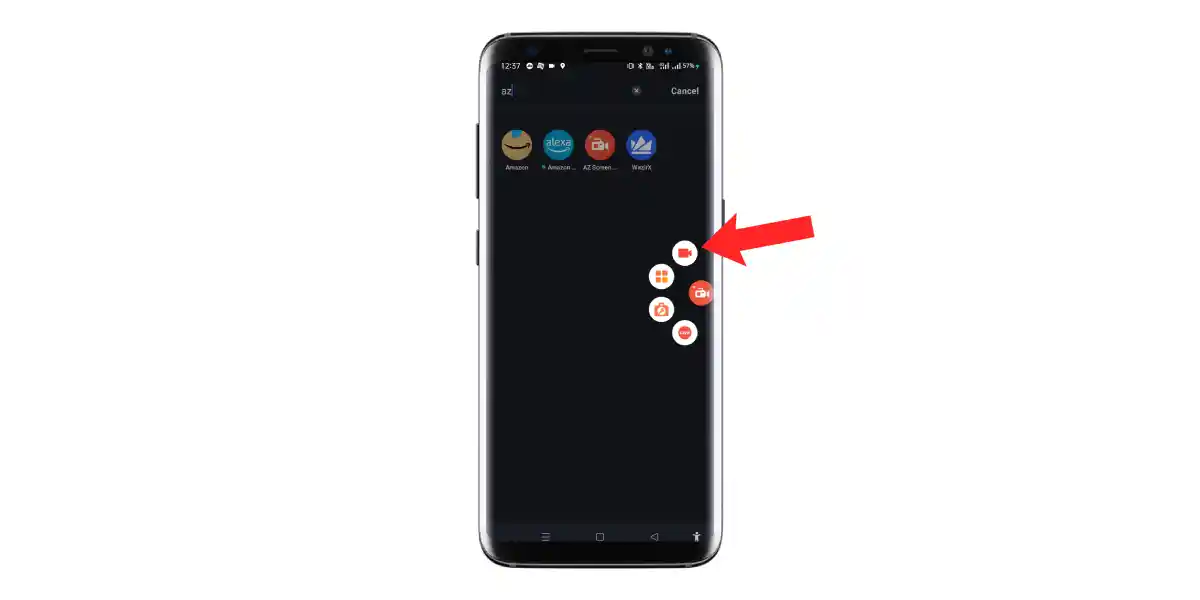 After installing the screen recorder, press the "Record" button on your screen recorder's interface and it'll start recording your phone's screen.
Step 3: Navigate to Ring Doorbell's Live View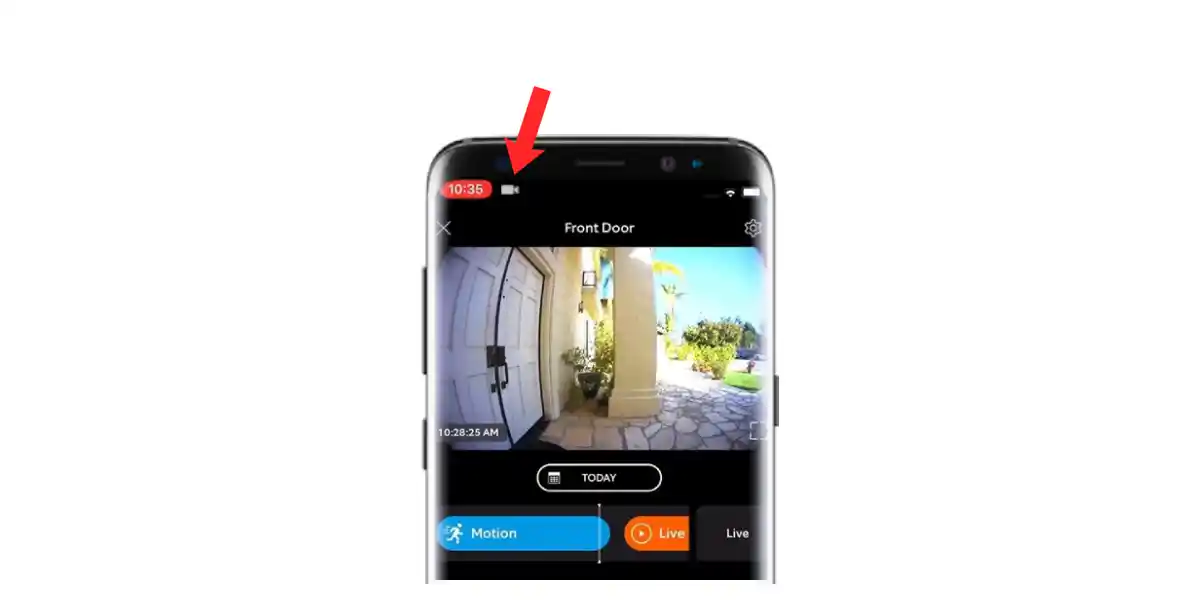 While your phone's screen is recording, navigate to Ring doorbell's live view. To do that, Open the Ring App > ☰ Devices > Select Ring Doorbell > Tap Live View.
You'll then see a real-time video from your Ring doorbell's camera.
Step 4: Record the Live View & Save It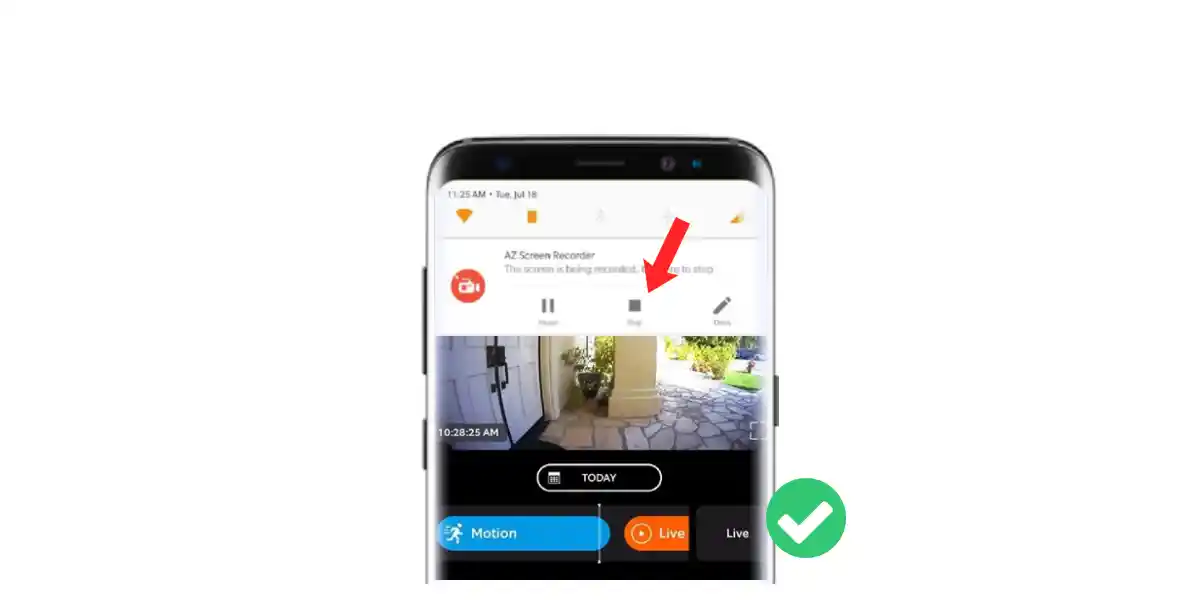 The screen recorder will capture your screen once you're in live view. If you want, you can keep it recording for as long as you like. To save, pull down the notification panel and press STOP.
Congrats! Now you've successfully saved Ring doorbell video without a subscription.
Disclaimer: This type of loophole is frequently addressed by Ring through software updates. If this method of screen capturing videos suddenly stops working, don't be surprised.
Let's check a few other ways!
More Ways to Save Ring Doorbell Videos for FREE
Try Free for 30 days
The official way to save Ring doorbell videos for free is to enroll in the 30-day free trial of the Ring Protect Plan. This temporarily gives you access to premium features such as video saving/recording, bulk saving, history, and more. I think this is perfect to see if you want to invest to record everyone that rings your bell.
By looking at this, you can determine whether you live in a safe neighborhood, or no one rings your doorbell frequently unless you schedule visits. Click Here for a 30-day FREE trial.
Record On PC for Free
With a PC screen recording tool, you can create a Ring doorbell video recording system without paying for a subscription. All you need to do is download the tool and start recording your Ring doorbell's live view.
The idea is to log in to your Ring account from your PC and start recording the camera's live feed using the screen recorder tool. If you're considering this setup, make sure you have enough hard disk space, a tool that records 24/7, and an active internet connection.
Record from Other Phone (URGENT)
When someone is trying to break into your home, you cannot subscribe for a free trial or install a screen recorder during this panic situation. However, you would want to record the trespasser as a shred of proof.
So, what should one do? If something like this happens, I would suggest you grab your other phone and start recording the intruder's activity from the Ring app's live view. Later, present it as evidence to cops.
To access the live view, Open the Ring App > ☰ Devices > Select Ring Doorbell > Tap Live View.
FAQs On Saving Ring Doorbell Videos Without Subscription
If I Don't Subscribe to Ring, How Long will the Video Stay?
Once your free trial subscription ends, videos saved in Ring's cloud will be deleted unless you're subscribed to Ring Protect Plan. To avoid deletion, subscribe to the Ring Protect Plan as soon as the free period ends.
Can I get my Ring account suspended for saving videos unofficially?
As of now, there are no such reports of Ring accounts getting suspended for saving videos unofficially. Even if your Ring account gets suspended, you can create a new account anytime.
What's the Best Technical Method to Save Ring Doorbell Footage?
---
Read More On Ring Doorbells