Have you accidentally deleted your Ring doorbell's video recordings? Or you're trying to check on previous recordings, but cannot find them anymore? Ring's Protect Plan lets you save videos on its cloud server and download them locally whenever you need them.
Losing these videos is like losing critical evidence regardless of whether these videos are deleted knowingly or unknowingly. Even if you have never encountered such a problem before, solving it can be much easier.
However, there are a few criteria you must meet to recover your deleted video footage.
In this article, I've explained the only way to recover deleted Ring doorbell videos along with what you can do to prevent losing your precious recordings in the future. Let's Dive In!
Related | How to Save Ring Doorbell Video Without Subscription? 4 Ways
Why Do Ring Videos Get Deleted? Two Reasons
Video recordings from Ring's doorbell are saved on the company's server, which can be accessed via the company's web or mobile apps. They also let you download these recordings to your local desktop or laptop. If it ever gets deleted, it will be either from the Ring server or from your local disk.
There are two primary reasons why your Ring doorbell videos can be deleted:
Accidental Deletion: As the web interface for deleting saved videos is so convenient, anyone can tap the delete button without a confirmation dialog box, resulting in an accidental deletion.
Automatic Deletion: After 180 days (6 months), Ring automatically deletes your videos from its server. Since this deletion is initiated in consideration of your privacy, you cannot complain.
Note: Video saved locally on any hard drive can also get deleted accidentally or a disk failure.
Can you Recover Deleted Ring Doorbell Videos?
Deleted videos are instantly and forever removed from Ring servers and cannot be recovered. This includes all clips and live views stored with a Ring Protect subscription or trial. But luckily, you can recover deleted videos using data recovery software if saved on your local drive.
The Ring Protect subscription lets you save video clips for 180 days on their cloud storage. This period falls under Ring's policy, so when a video is stored on Ring's servers for more than 180 days (6 months), it gets automatically removed. The only reason for this removal is your privacy.
Therefore, Ring always recommends its users download important video clips to their local hard drives at regular intervals. This is a good practice to avoid losing your important video evidence.
Another advantage of saving Ring doorbell videos on local drives is that you can recover them if they are deleted accidentally. Here is a detailed table to get a better understanding:
| Deleted From | How? | Recoverable? | Method |
| --- | --- | --- | --- |
| Ring Server | Accidentally | No | N/A |
| Ring Server | Automatic (180 days) | No | N/A |
| Local Drive | Accidentally | Yes | Recovery Software |
| Local Drive | Disk Failure | Yes | Recovery Software |
The Only Way to Recover Deleted Ring Doorbell Videos
If your Ring doorbell's video is deleted from the Ring server, consider it gone forever. The only way to recover is if the video was saved to your local drive. You can take the help of data recovery software to recover your lost files back. Here are a few software suggestions that can help you recover your file:
EaseUs Data Recovery
EaseUs Data Recovery is the world's most efficient and powerful data recovery software, which enables you to recover lost or deleted files from the hard drive, SD card, and USB drive. It can help you recover deleted ring doorbell videos that you've downloaded once, or shared with family members before.
The demo version is worth downloading as long as you can find the video on a local device, or even a shared account's device. As a side note, the software is available for both Mac and Windows users.
Here's how to recover deleted Ring doorbell videos using EaseUS Data Recovery:
Step 1: Open EaseUS Data Recovery software. Select the location where your Ring doorbell data & files were deleted and click the "Scan" option.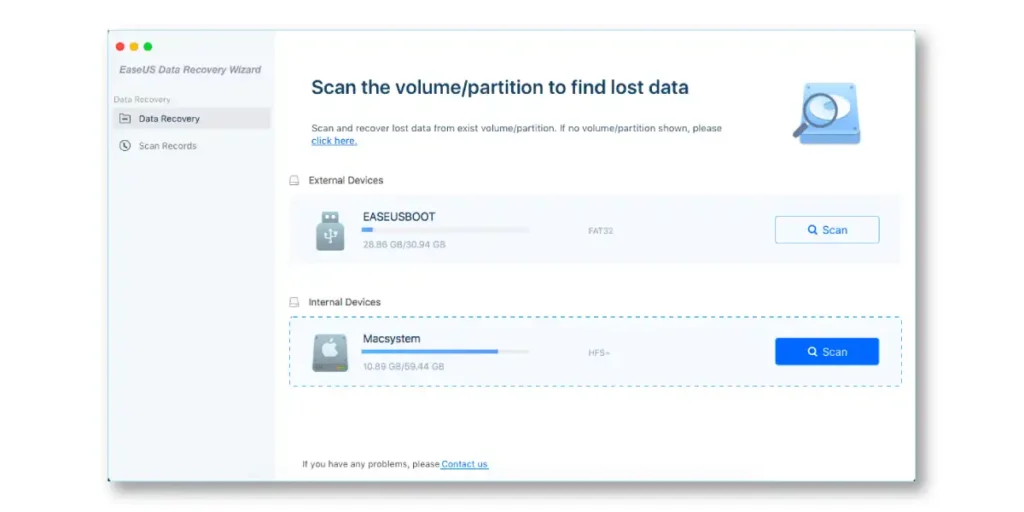 Step 2: On clicking Scan, it will start both quick and deep scanning of your storage, trying its best to recover as many files as possible.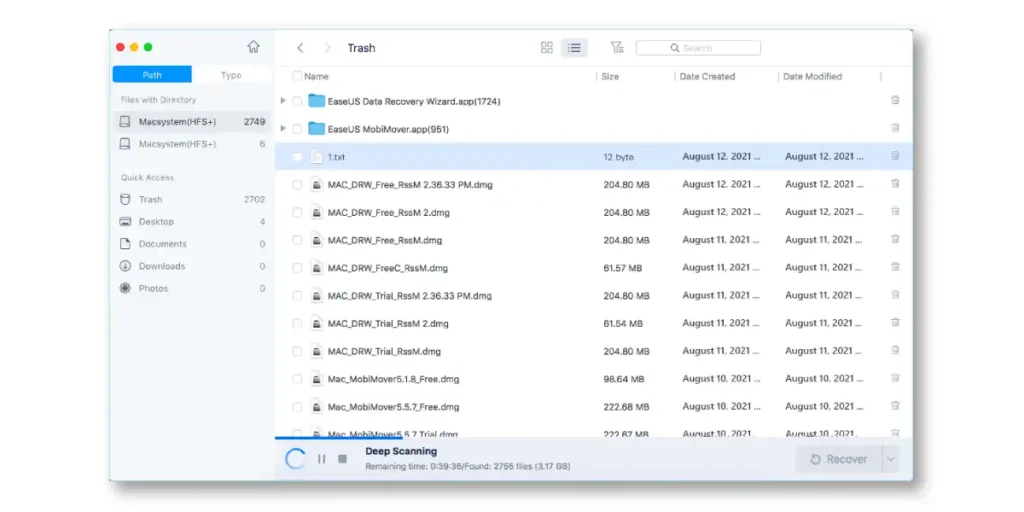 Step 3: A list of scan results will be displayed on the left. Click "Recover" to recover the deleted Ring video files.
Disk Drill Data Recovery
You can also recover videos from a Ring doorbell using Disk Drill Data Recovery software. The software has an inbuilt video recovery module that is capable of recovering any video format. Disk Drill is available for both Mac and Windows users. Try the Free version to check how good it recovers your lost ring videos.
Here's how to recover deleted Ring doorbell videos using DiskDrill Data Recovery:
Step 1: Launch Disk Drill. Select the storage device where your deleted Ring videos were stored. Then, click on the "Search for Lost Data" button.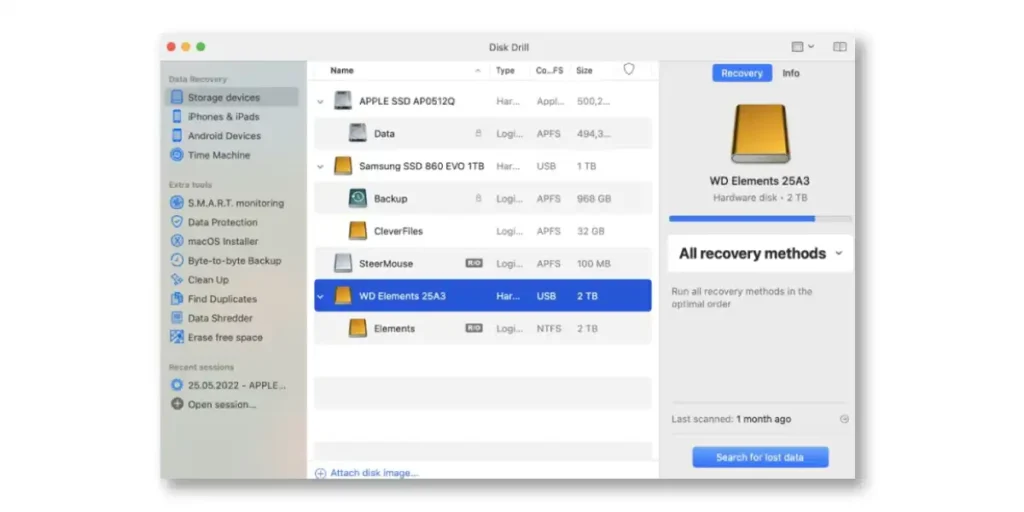 Step 2: Using Disk Drill's preview feature and the available filters, find the missing videos from the scaned results.
Step 3: Once you find your lost ring doorbell videos, select them and click Recover. Make sure to choose a recovery destination and tap Ok.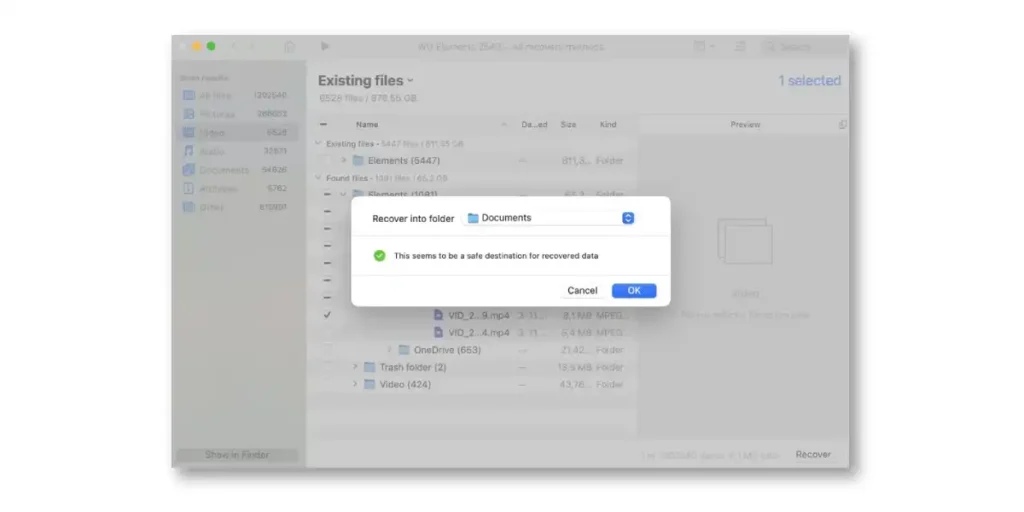 Can Police Recover Your Deleted Ring Videos?
According to Ring's Privacy Policy, the company will not disclose video recordings or other personal information to law enforcement agencies unless they have:
The Users consents.
A Valid Warrant.
Serious physical injury to a person.
Insufficient time to obtain a court order.
This is only applicable if a video is still present on the Ring Server. However, If a video has been deleted from the server, no one can retrieve it, not even the police.
The good news is you can request (only criminal conduct cases) for Police department's digital forensics experts to help you recover deleted video clips if you have saved them locally on your hard drive.
Tips to Prevent Losing Ring Videos In Future
Manually Save At Regular Intervals
Since Ring doesn't provide auto backups to drives, you should always download and save your important recordings at regular intervals. For your convenience, the Ring Protect plan lets you download up to 50 videos at once so that you don't have to go through each video.
As for me, I've created a schedule. On Sundays, I log into my Ring account and download all the videos recorded that week. And save those recordings to my external hard drives.
As a result, even if these videos are deleted at some point, I'll still have a personal backup to fall back on.  
Set Up Auto Backups to Google Drive
We can agree on the fact that local drives are not even safe. It is possible to lose your saved files due to accidental deletion or disk failure. So to be more secure, you should have some solution in place.
Google Drive for Desktop, provides you with an option to choose computer folders to back up to Drive. This option creates a continuous connection between your desktop and the cloud, letting you back up a specific folder or entire partition automatically when online. Sounds cool, right?
Here's how to setup auto backups for saved Ring doorbell video folder:
Once installing Google Drive for Desktop, go to taskbar and select Google Drive's app.
Click on gear icon on right. From menu, select "Preferences."
You'll be asked to Add Folder that you can to sync.
Then, select the folder where you've saved all your Ring doorbell videos.
Next, select "Sync with Google Drive" as your back up method. Click Done.
Finally, click "Save" to start the backup process.
Read With Step Images | Back Up Your Computer to Google Drive Automatically
FAQs On Recovering Deleted Ring Doorbell Videos
What Happens When I Delete A Video On Ring?
When a video is deleted from the Ring interface, it gets removed from the server permanently. Unfortunately, there is no way you can recover it.
Can I See Deleted Ring Videos?
The Ring app does not have a recycle bin or history section for taking a look at deleted videos. For your privacy, once the video is deleted, Ring remove it permanently from their server.
How Long Does Ring Keep Footage On their Servers?
With Ring's protect subscription, Ring stores your video recording for up to 180 days (6 months) on their cloud server.
---
Read More On Ring Doorbell