Last year, I replaced the Ring Doorbell with Ring Floodlight Cam due to its extra features such as floodlights, bird's eye view, and a built-in siren. I didn't check much as I bought it on a friend's recommendation, and when it arrived, I was pleasantly surprised by its design and size.
However, one thing confused me about where and how I will mount my new Ring Floodlight Cam as the mount of Ring Doorbell doesn't work with Ring Floodlight Cam. I called my friend again, and he gave me some Ring Floodlight Cam mounting options, which I will share.
Top 5 Ring Floodlight Cam Mounting Options
When it comes to installing Ring Floodlight Cam, you need a mount so that you can fix the position of the camera. You can install a mount on a wall or even ceiling and then install the Ring Floodlight Cam easily.
You can choose any option for Floodlight Cam Wired Pro or Floodlight Cam Wired Plus. There are many Ring Floodlight Cam mounting options, and we'll discuss some of the best options :
Wall Mounting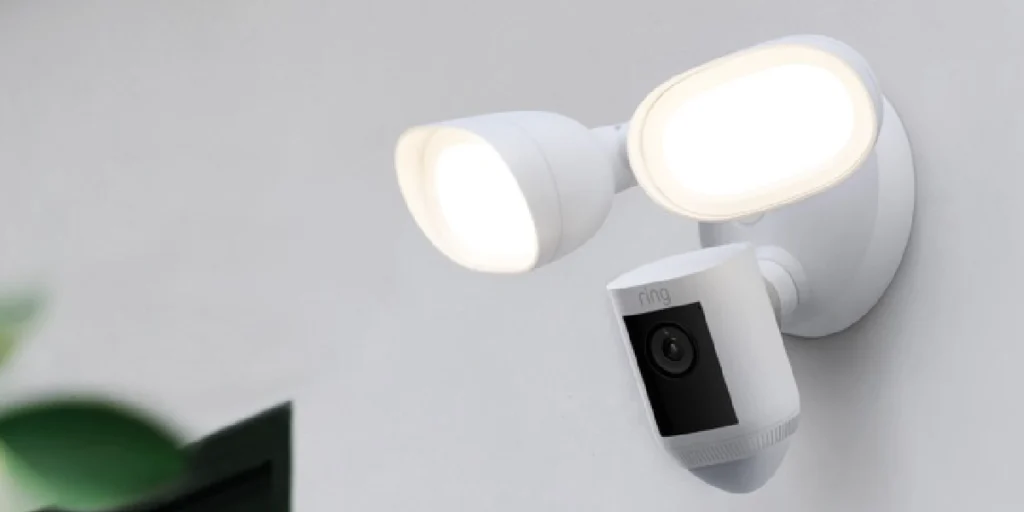 Wall mounting is the go-to option for installing Ring Floodlight Cam. Ring separately sells Spare Parts for just $1.99. It has a Ring Floodlight Cam mounting bracket that you can mount on the wall using screws. An easy option of installing Ring Floodlight Cam if you have existing wiring installed.
There's a guide book inside the box and a how-to if you want to know how to install Ring Floodlight Cam.
Soffit Mounting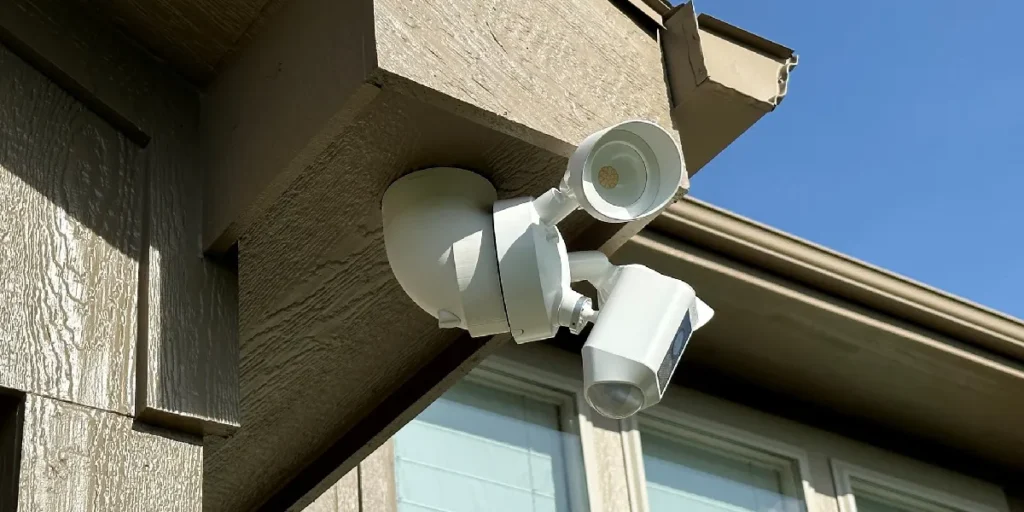 A soffit extends beyond the roof or the underside of the overhang. When the underside of the hang has a finished appearance, we call it a soffit. Now, unlike wall mounting, which is vertical, Ring Floodlight Cam soffit mounting is horizontal.
When you mount a Ring Floodlight Cam on the soffit, you have to adjust the camera ball socket and rotate the camera to 180 degrees so that you can get an upside view. You can use the adjustment knobs to point the floodlights, and you can use to lock collar to change the direction of the floodlights.
Eave Mounting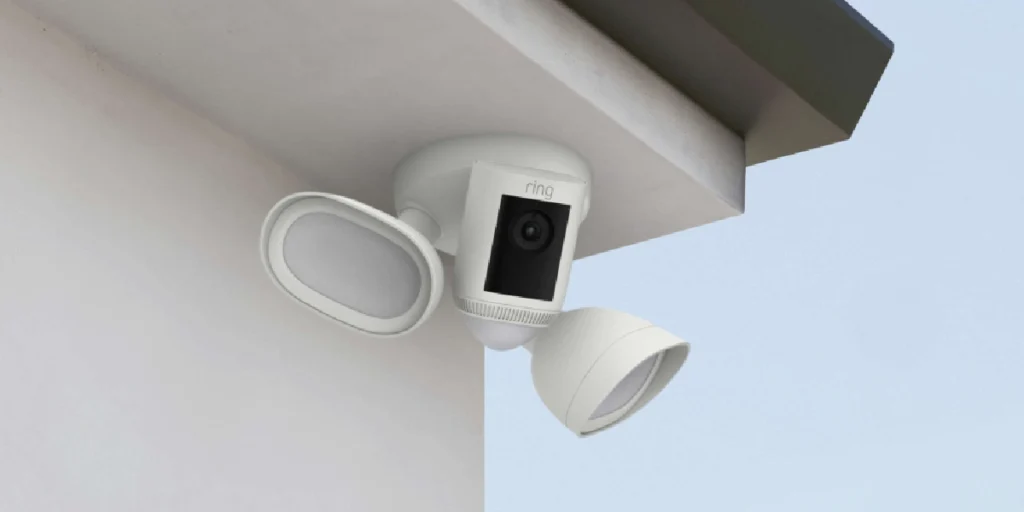 When a roof extends a small way past the building, we call it an Eave. People make eaves to prevent birds from making nests and also to stop water from entering. Eave is similar to a soffit as you have to install the Ring Floodlight Cam horizontally.
You can install the Ring Floodlight Cam with the same mounting bracket, but make sure that you choose a location on Eave where you have the maximum overview and floodlight coverage. Once installed horizontally, you can adjust the floodlights and camera angle using adjustment knobs and a lock collar.
Ceiling Mounting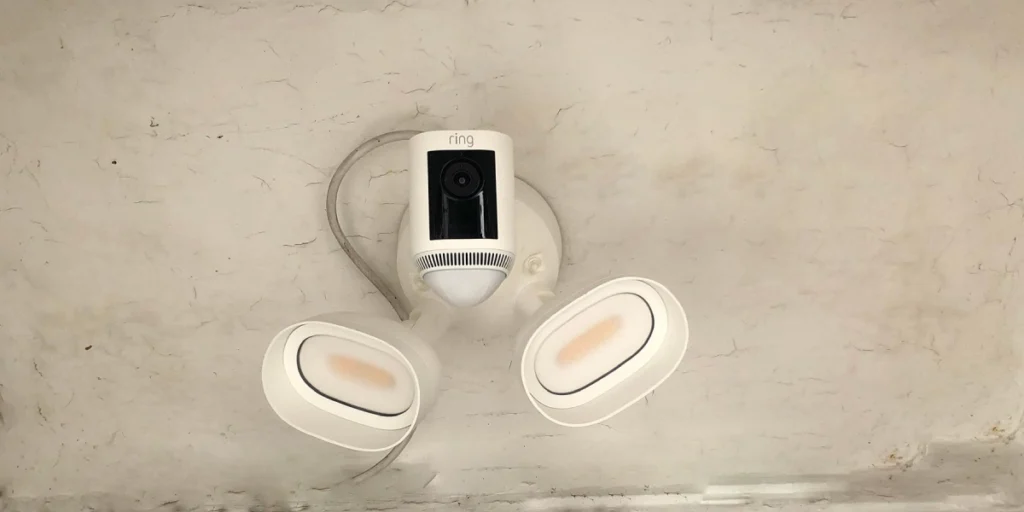 Ceiling Mounting is similar to eave mounting and soffit mounting. If you are wondering how to install Ring Floodlight Cam without existing wiring, you might have to do the wiring ad make sure to use the 4-inch junction box. Installing a Ring Floodlight Cam requires that your surface ceiling should be flat.
The ceiling mounting option is also suitable if you want to install a Ring Floodlight Cam inside.
Plug-In Mounting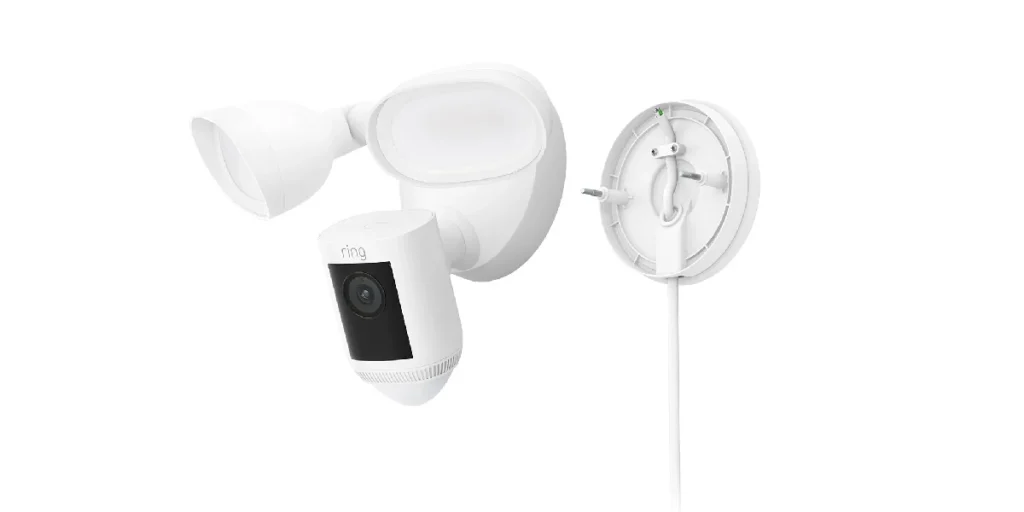 The above-discussed options require installing a junction box, which may give a bad look to your ceiling or soffit. Also, if you don't have a pre-existing junction box, you will have to do the drilling. You can avoid such hassles for Plug-In mounting option.
Ring Separately sells the Plug-In Mount for Ring floodlight Cam just for $19.99. If you don't have a junction box or existing outdoor wiring, a plug-in mount is the best option to go for.
It comes with a cable length of 6m, or 20ft, which is more than enough to mount the Ring Floodlight Cam and connect the cable to the nearest power source. Plug-In Mounting works with both models; Floodlight Cam Wired Pro and Floodlight Cam Wired Plus.
How to Choose the Right Mounting Option for Ring Floodlight Cam?
Choosing the right mounting option should be based on the location and ease of installation. If you are thinking of how to install a Ring Floodlight Cam. You can consider the following options :
Assessing Property Layout and Camera Requirements
It's quite clear that you won't have to go for the soffit mounting option if you don't have a soffit. But, if you have both soffit mounting and wall mounting options, you can choose as per your property.
For example, you can choose wall mounting if you have existing wiring. On the other hand, if you don't have existing wiring, you can choose the Plug-In Mounting option.
Consider Aesthetic Preferences and Visibility
External wiring really gives a bad impression of the outlook. Also, you would want to avoid drilling holes in the junction box on a wall. So, you can choose the Plug-In Mounting Option and bring it cable from sideways so it isn't visible much. Secondly, a junction box doesn't add much value to the aesthetics, especially if it contrasts with the wall's paint or soffit.
Suitable Mounting Option Based on Individual Needs
Whatever mounting option you choose, it should be according to your needs. If you have walls with considerable height but no soffit or eave options, your best option is to install Floodlight Cam on the wall.
Ring recommends installing a Floodlight Cam up to 9 feet to get the maximum motion zone and camera coverage. Also, installing Ring Floodlight Cam at the height gives you maximum floodlight outreach.
If you have both options available to install a Ring Floodlight Cam, you should choose what suits you. If you want Ring Floodlight Cam to be not too prominent, you can select ceiling, eave, or soffit options. However, if you want a convenient option, you can choose the wall mounting option with a Plug-In Mount.
---
Read More on Ring Camera