Buying is always easy; the hassle is always about installing Ring Spotlight Cam and choosing the right mounting option. Especially if you buy the Ring Spotlight Cam for the first time and don't know much about the installation process, mounting options can confuse you.
Interestingly, the mounting options depend upon what type of wall you have and the specific area of the wall where you want to install Ring Floodlight Cam. We will discuss some mounting options for Ring Spotlight Cam so you can choose accordingly.
Recommended | Mounting Your Ring Floodlight Cam: Top 5 Options to Consider
Top 6 Ring Spotlight Cam Mounting Options
Ring Spotlight Cams are great security companions since they are able to collect footage even in areas that are missed by conventional security cameras.
Ring Spotlight Cams are small in size yet come equipped with all of the most advanced security features, including color night vision, motion detection, bird's eye view, LED lights, and a siren. You can quickly install them in a manner that is tailored to your preferences regarding the available possibilities.
Wall Mounting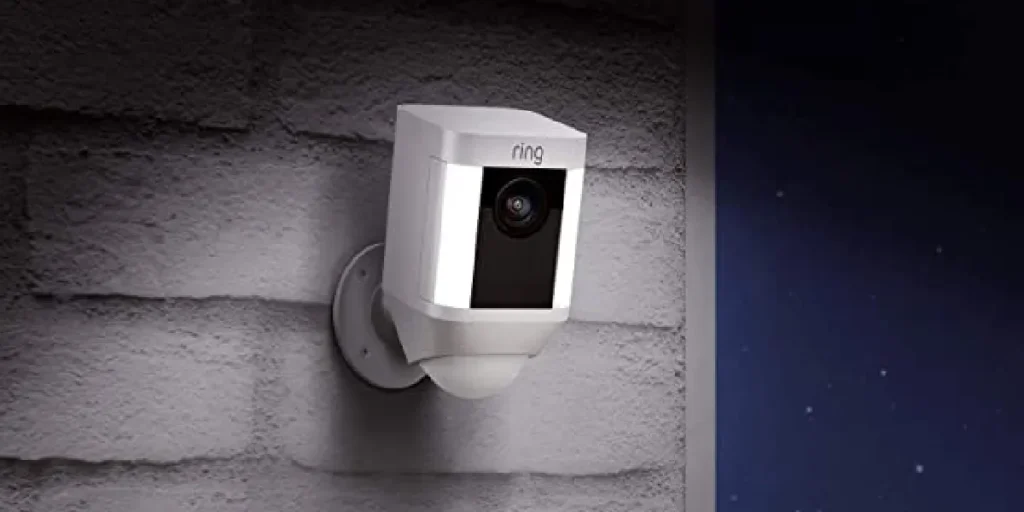 There are two models, Spotlight Cam Plus and Spotlight Pro, that come with a rechargeable battery pack, giving you a flexible option to install easily. Yet, when the battery runs out, you have to recharge it again.
There's an easy 2-in-1 solution for that as it comes with wall mounting options and an attached solar panel, so your Ring Spotlight Cam remains charged.
It's an easy solution as you can change the direction and angle of the Ring Spotlight Cam for a better field view and of the solar panel for maximum exposure to sunlight.
Wall Corner Mounting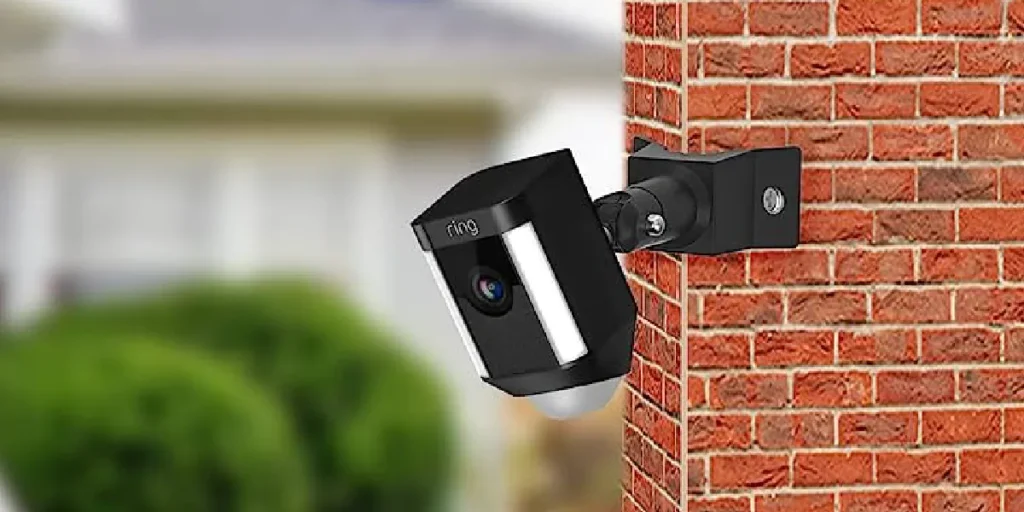 Sometimes the home is situated on the corner of the street, or the residence itself may be situated in a crowded area, in either case, leaving you with no choice but to mount the camera in the corner of a wall. Its their horizontal design, the common wall mounting solutions for the Ring Spotlight Cam are now useless.
However, Wall Corner Mount Bracket is a great alternative as it has a 360-degree swivel and 180-degree tilt option so you can direct your Ring Spotlight Cam with ease.
Another great feature is you won't have to separately install the Ring Spotlight Cam and ring solar panel as you can fit them on the same wall mounting bracket. When both options are on the same wall corner mounting bracket, the wires are hidden behind the panel so it doesn't give a bad look to the observer.
Gutter Mounting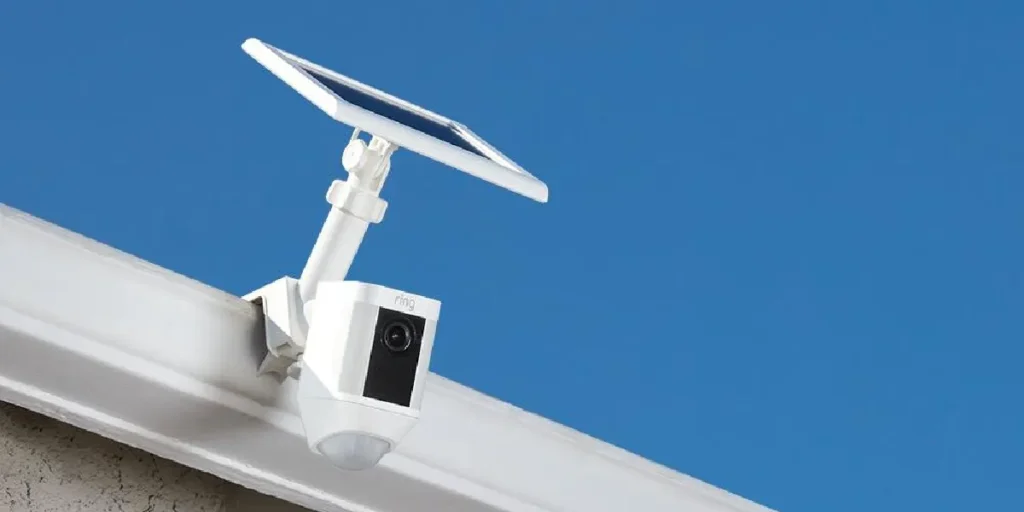 If you have installed gutters on your home as they provide a pathway for rainwater to flow, and protect walls and doors against falling leaves and rain.
You can easily use gutters to mount Ring Spotlight Cam. Ring Gutter Mount for Spotlight Cam can be installed on the home's gutter as unlike walls, gutter gives a more elevated view for the camera and more exposure to sunlight for a longer time.
Pole Mounting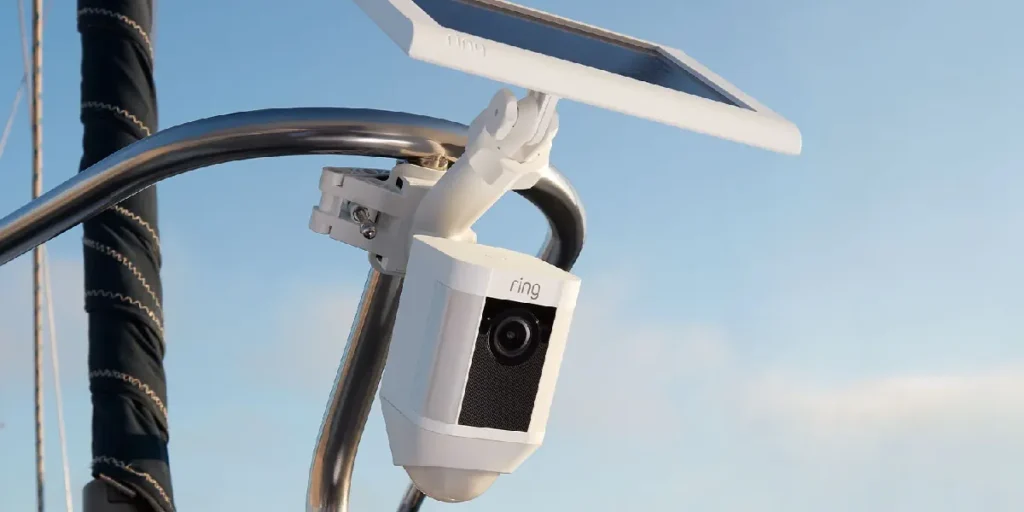 There are some homes where pipes like drainage pipes or poles creep along the wall, from the bottom to the top. Similarly, if you have trees with circular trunks of small diameter, you can take them as poles too.
The Pole mounting bracket is an easy solution as it provides a 90-degree swivel for Ring Spotlight Cam and a 360-degree swivel for the spotlight cam battery and Ring solar panel.
Vinyl Siding Mounting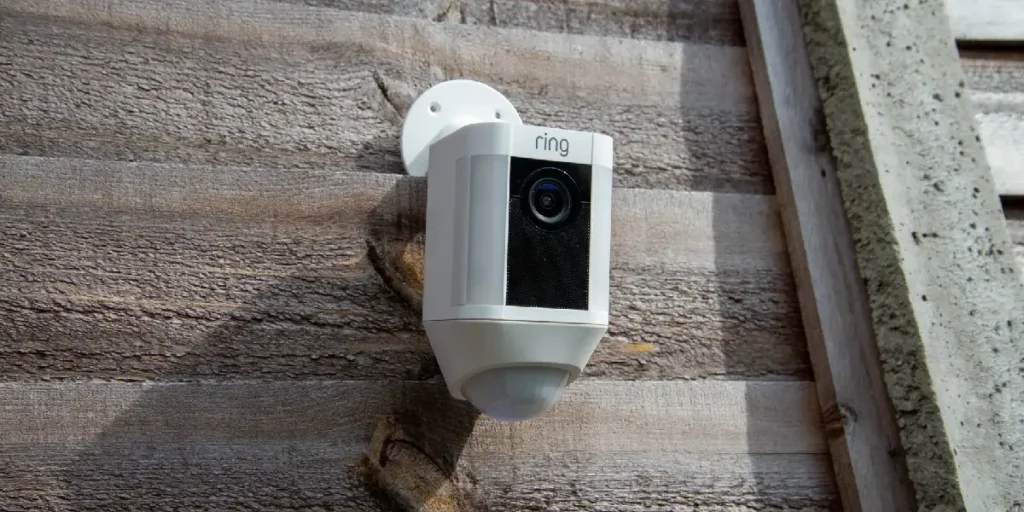 Recommended | How to Install Ring Camera On Vinyl Siding: Stick Up And Spotlight!
If you have a home with vinyl siding, installing Ring Spotlight Cam on vinyl siding could feel tricky, but it isn't as there are custom-made vinyl siding mounting options.
You won't have to do the holes drilling, which anyone with vinyl siding wants to avoid at all costs. A vinyl Siding Mount is a great option to mount Ring Spotlight Cam alongside Ring solar panel.
It gives you the option to mount the Ring Spotlight Cam and solar panel together or separately. It extends up to 4 inches from the mounting surface, and you can easily rotate its swivel to adjust the viewing angle.
Ceiling Mounting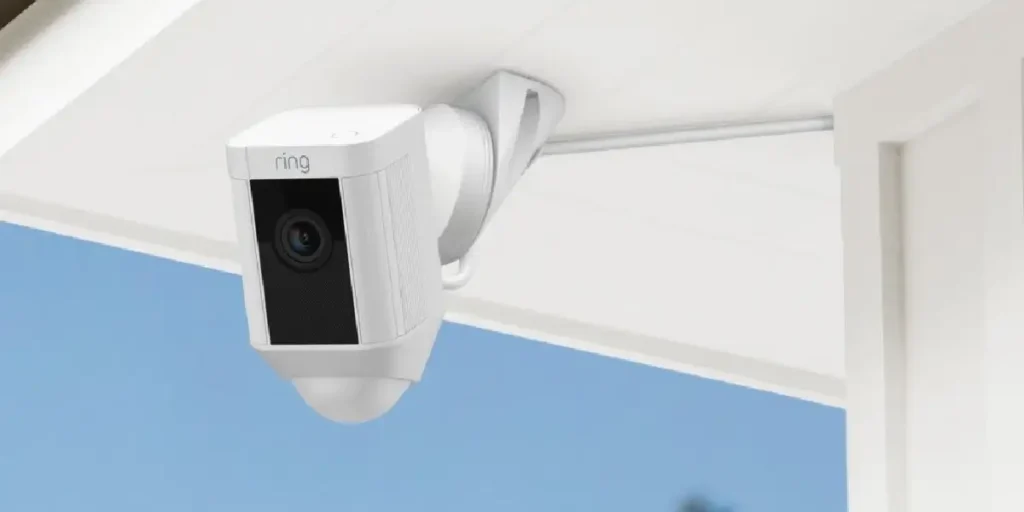 If you have a simple roof with no eave or overhang, or even if you have one; you can simply go for ceiling mounting for Ring Spotlight Cam. You should keep in mind that you can only go for the wired option for ceiling mounting as a ring solar panel isn't going to work under the ceiling.
Similarly, you will have trouble with battery-powered Ring Spotlight Cam Plus, and Spotlight Cam Pro models as it's unfeasible to recharge and replace the battery from time to time.
Spotlight Cam Wired Plus is the perfect option as it is wired and is intended for Ceiling Mounting. Ring ceiling mounting comes in black and white color and, you can paint any color on the white ceiling mount to compliment the color of your ceiling.
Eave Mounting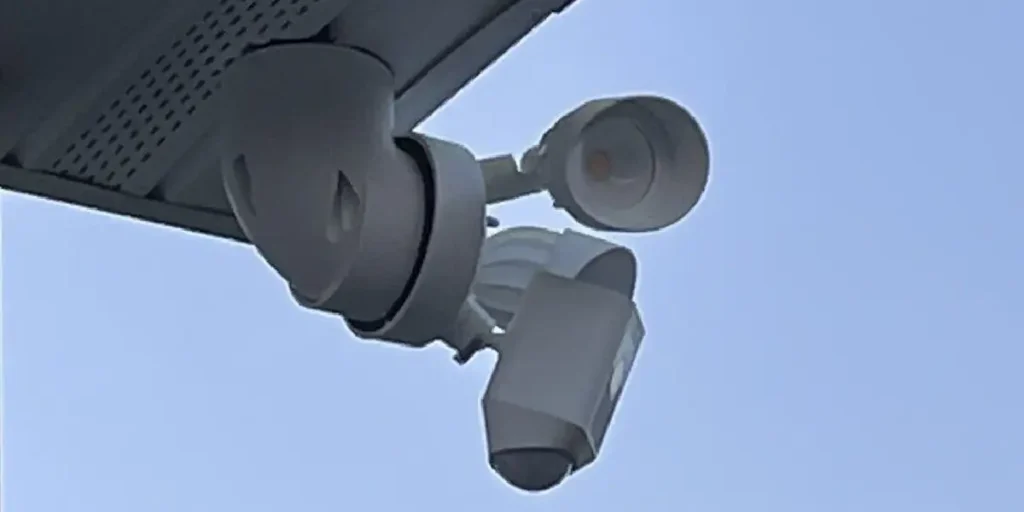 The term "Eave" is used to describe the outward projection of a roof. Eaves are built so that water doesn't seep in and eave mounting are curved so the snow doesn't gather during winter or rainwater on the roof.
You can mount the Ring Spotlight Cam using the eave mounting option. As the eave is the underside of the roof so you can only go for the Spotlight Cam Plus and Spotlight Cam Pro options.
Wrap Up
Choosing the right mounting option for your Ring Spotlight Cam is important because it not only makes the choice easy but also makes a difference in the camera's coverage for optimal security.
Whether you opt for wall mounting, wall corner mounting, gutter mounting, pole mounting, vinyl siding mounting, ceiling mounting, or eave mounting, you should choose these options as per the design of your home's roof or walls.
All of these mounting options are pretty easy to install so you don't need technical know-how or handyman services either to install.
---
Read More on Ring Camera