When we moved to a new apartment, I had trouble earlier opening the door again and again and was a bit surprised by my neighbors' door staying silent. Whenever someone knocked on the door or the delivery arrived, I had to leave my desk, as I work from home, and rushed towards the door.
Sometimes there was no one and sometimes I had difficulty conversing with an outsider behind the door as I wasn't comfy with opening the door. I was intrigued to see an electronic device at my neighbor's door.
After inquiring, a neighbor told me all about it and I now think installing a Ring doorbell is the best choice you can make for security and privacy. However, the main concern for me was – Are Ring Video Doorbells allowed In Apartments? Let's Find Out!
Can You Install A Ring Doorbell At Apartment?
Legally speaking, Ring doorbells are allowed in apartments as long as they don't invade your neighbor's privacy and follow the lease agreement.
If you own the flat, you should be able to make changes. However, in some cases, your building association may not allow modifications to your home that compromise your neighbor's privacy. Always check your lease agreement before installing a Ring Doorbell, as some apartments allow it while others don't.
Why Installing Ring Doorbells Restricted in Apartments?
If one thinks legally there is no restriction in installing a wired doorbell or even a wireless doorbell at your front door. But there can be some restrictions that come into play, and you can overcome them easily.
Talk to Landlords
If your landlord or apartment complex doesn't allow wired doorbells, it is because they don't like external modifications like drilling on the front door. For the safe side, talk to your landlord first and assure them that you won't be making changes to their property.
You can choose a Ring Wireless Video doorbell instead of a wired Ring doorbell.
Wires are Wires
Wired doorbells may sound like a cheap option, but they come with a fundamental dilemma: wires. As wired doorbells can be extended as much as you want which indirectly also means you have to run wires throughout the space, giving bad look to the walls.
Wiring installation can also be messy and time-consuming especially if you are not handy with tools, and you might even need to spend for technical assistance.
Wired doorbells can't be trusted blindly as they accidentally cease to work or start malfunctioning which can be daunting as it requires a thorough inspection.
Neighbor's Privacy
Some neighbors complain of invasion of privacy as Ring doorbells can capture the movement of your neighbor's door and in some cases, Ring Doorbells have come under scrutiny as they can record audio especially if you are installing them in buildings or condominiums.
Make it a win-win situation with your neighbors by imploring that your camera is facing the hallway and, if any suspicious activity occurs, they can help in looking if they don't have a camera installed at their door.
Is there A Ring Doorbell for Apartments?
Your landlord might not like alteration to their building and wired doorbells might have compatibility issues and they can cost you more in terms of operating. But there is always a solution as wireless Ring doorbells have multiple benefits over wired doorbells, and it doesn't require any drilling at all.
Ring Peephole Cam Video Doorbell
The Ring Peephole Cam Video Doorbell is a good choice for apartment residents as it has a beautiful design, no drilling, full HD resolution, and two-way audio. Its filed view coverage is 155°.
Ring Peephole Video Doorbell's functionality is smooth and seamless. After installation when someone presses a button, the camera senses a movement, and the user gets a notification on the Ring app.
The app offers a live view of the door, so you don't necessarily have to be present at home as the Ring app is integrated with the doorbell. If someone comes to the door but instead of pressing the button, knocks on the door, the camera also has an impact sensor that can also notify.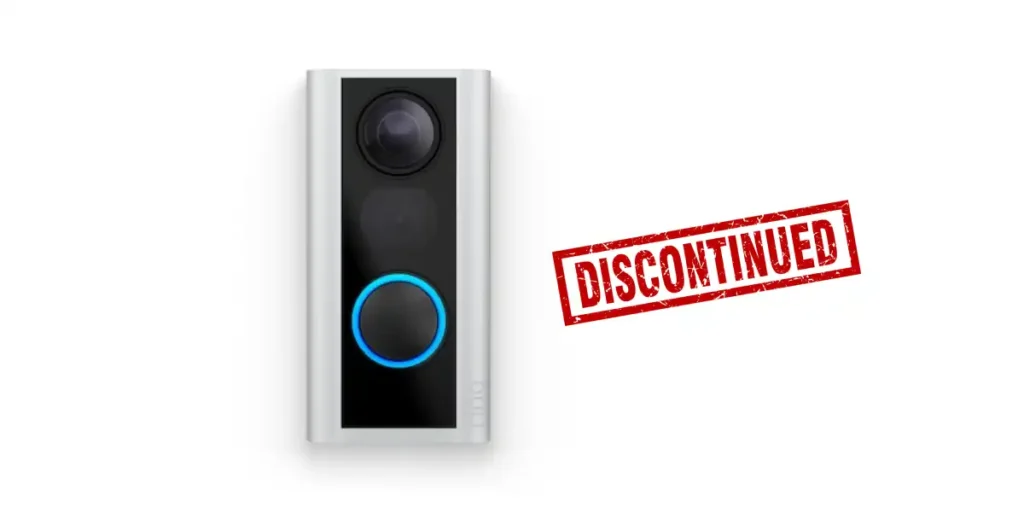 Note: Unfortunately, the Ring Peephole Cam was discontinued in April 2021 and no replacement has been announced since then. Hence, consider a wireless doorbell instead.
Choose A Wireless Ring Doorbell
The Ring has a collection of wireless video doorbells which makes it easier for renters and apartment residents to mount them on their doorframes.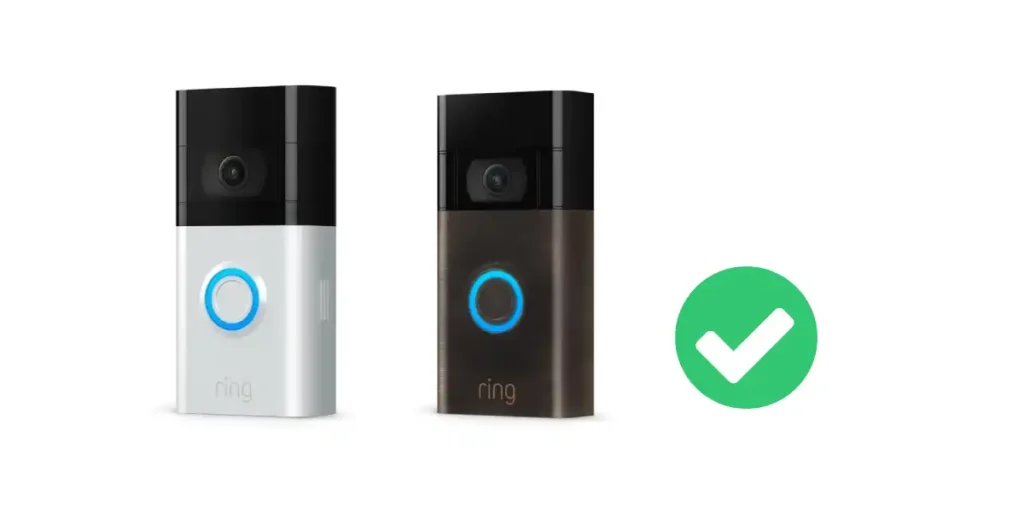 Its installation is very simple as it doesn't need wiring and drilling, just attach it to the front door using a no-drill mount and you're good to go. Also, the factor you should be considering for installation should include ease of installation, night vision, picture quality, battery life, and motion detection.
Must Read | How to Mount Ring Doorbell Without Drilling? (With Images)
Ring Wired Vs Battery: Which Doorbell Is Good for Apartments?
Ring Doorbells come with two options:
Wired (use electricity generated by the hardwiring to operate/ non-removable battery)
Wireless with Battery (manually remove the battery to charge)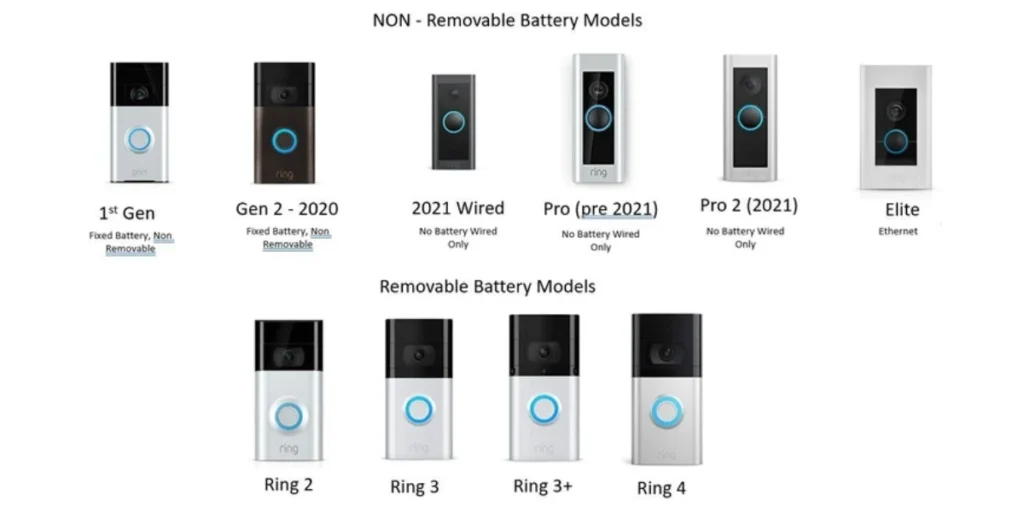 Wired Ring Doorbells use electricity generated by the hardwiring to operate their regular functions like motion detection and produce a live view. The problem with wired doorbells is it requires drilling on the front door to install, which is restricted in some apartments.
To be on the safer side, ring doorbells with rechargeable batteries come to the rescue. It doesn't need wiring and drilling, just attach it to the front door using a no-drill mount.
Recommended No-Drill Mount: Anti-theft No-Drill Door Mount
All electronic devices whether in your pocket, at home, or on the walls are vulnerable to theft but there are ways you can protect your devices.
One prime solution is EUKI's anti-theft doorbell mount which is a good choice to protect your Ring doorbell from theft, it requires no drilling and can simply be mounted outside your apartment's door.
Best Ring Doorbells for Apartments Residents And Renters
Ring Doorbell 4 (Wireless)
Doorbell Type: Wireless | Suitable for: Apartments with Hardwiring NOT Allowed | Suitable Mounting Method: No-Drill Mount (if drilling holes not allowed)
Ring 4 is the latest model in the Ring doorbell series. At just 200$, it comes with 1080p resolution, a 160-degree field of view, and two-way talk. Ring 4 can be used wirelessly, and it has both options, via a battery or through wiring. But if you are for a wiring option, you won't be able to use the existing doorbell chime.
Ring Video Doorbell Pro 2 (Wired)
Doorbell Type: Wired | Suitable for: Apartments with Hardwiring Allowed | Suitable Mounting Method: Drilling (install through professional)
Ring Video Doorbell Pro 2 is Ring's highest-end video doorbell. For a 260$ price tag, it gives a 1:1 aspect which means you can see a person from head to toe. It offers end-to-end encryption, sends delivery package alerts, and even can accommodate existing doorbell chimes.
---
Read More On Ring Doorbell