Are you unable to figure out how two-way talk on ring doorbell works? Beginners often have trouble understanding the features of their Ring video doorbells. There's nothing to be ashamed of. Even I get confused while operating a newly purchased device.
Ring doorbell's two-way talk feature was one of the things that fascinated me to install it at my doorstep. This feature allows you to speak with visitors without being physically present at your doorstep.
The Ring doorbell was all set up, but I couldn't figure out how to enable two-way talk. It wasn't until I tried the Ring app that I realized how the two-way talk feature works.
In this post, I'll guide you through a step-by-step process on how to enable two-way talk on Ring Doorbell when a visitor shows up at your doorstep. Let's Dive In!
Related | How to Change Ring Doorbell Sounds? (Try These Ringtones!)
Do All Ring Doorbells Have Two Way Talk?
The Ring doorbells have several features. One of them is the two-way talk feature that allows Ring doorbell owners to communicate with the people at the door without opening or answering the door.
The good news is all Ring video doorbell models support two-way talk, so you can hear and speak to visitors in real-time without being physically present.
Here's a list of all Ring doorbell models that support the Two-Way Talk feature:
Video Doorbell Wired
Video Doorbell Pro / Pro 2
Video Doorbell Elite
Video Doorbell (2nd Gen)
Video Doorbell 3
Video Doorbell 4
How to Enable Two Way Talk On Ring Doorbell?
Step 1: Turn On Push Notifications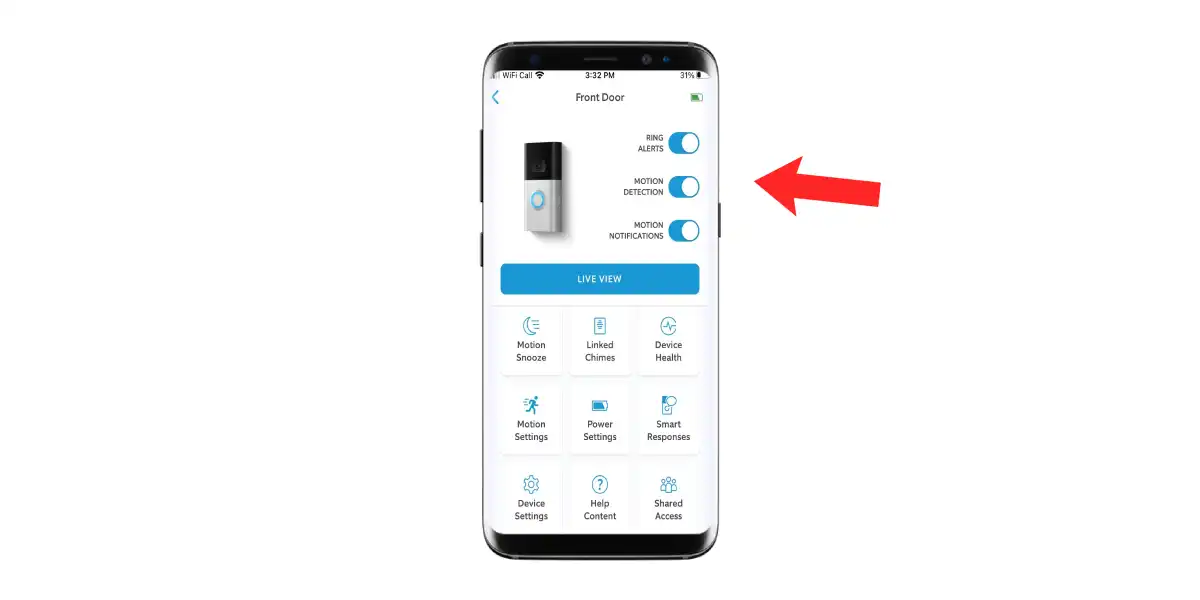 To initiate two-way talking, your smartphone must be notified of visitors to initiate the two-way talk. Make sure that the Ring app has the push notification option turned on. To get notifications, Open Ring App > Devices > Select Ring Doorbell > Enable Ring Alerts/Motion Detection/Motion Notifications.
Step 2: Let the Visitor Arrive At Your Door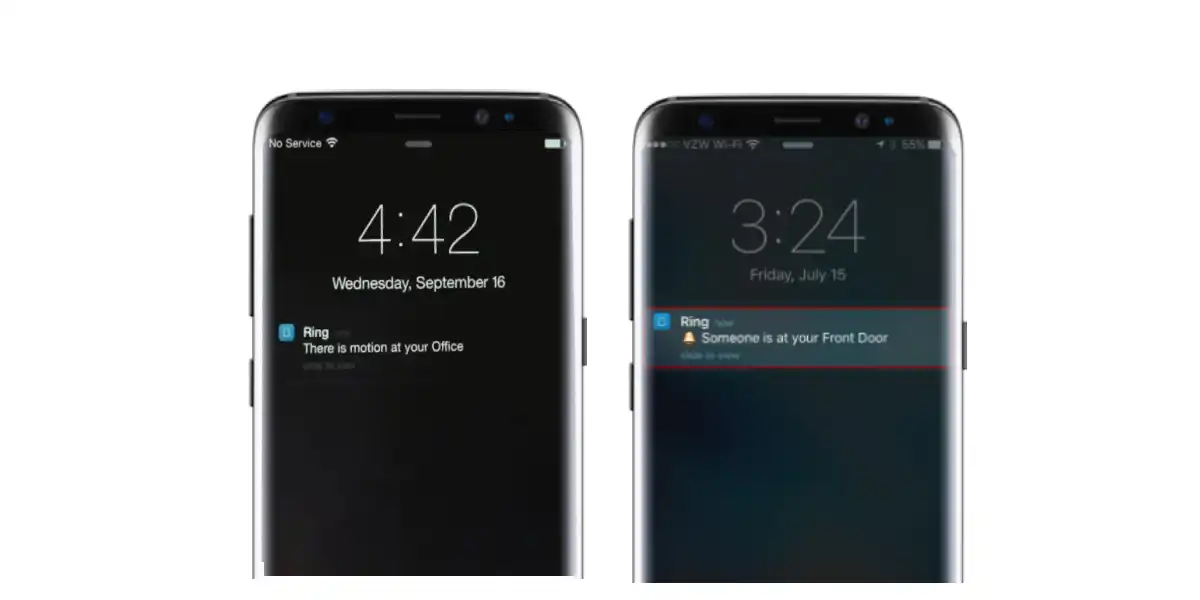 When a motion is detected, your Ring doorbell will now send you a notification on your smartphone saying "there is a motion at your door." Alternatively, If the visitor rings your doorbell, you'll receive a notification on your smartphone saying "someone is at your door."
Step 3: Open the Live View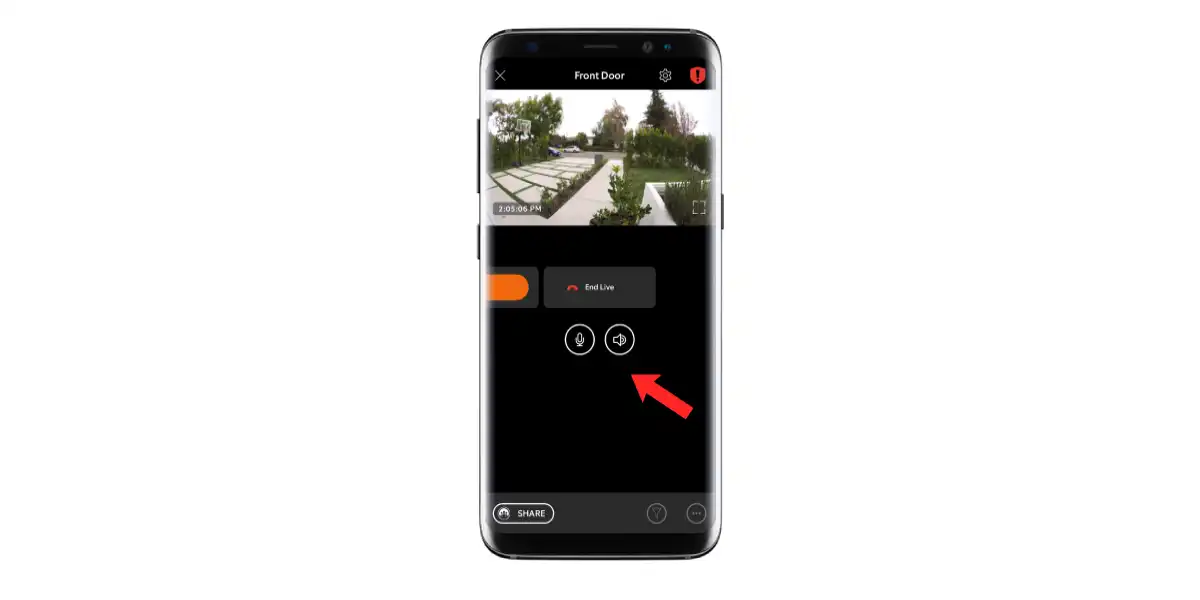 Tap on the notification to open up the live view, showing real-time video of the person at your door. From the live view, tap on both the speaker 🔊 and mic 🎤 icon, it'll allow you to speak and hear outside.
Step 4: Enable Two-Way Talk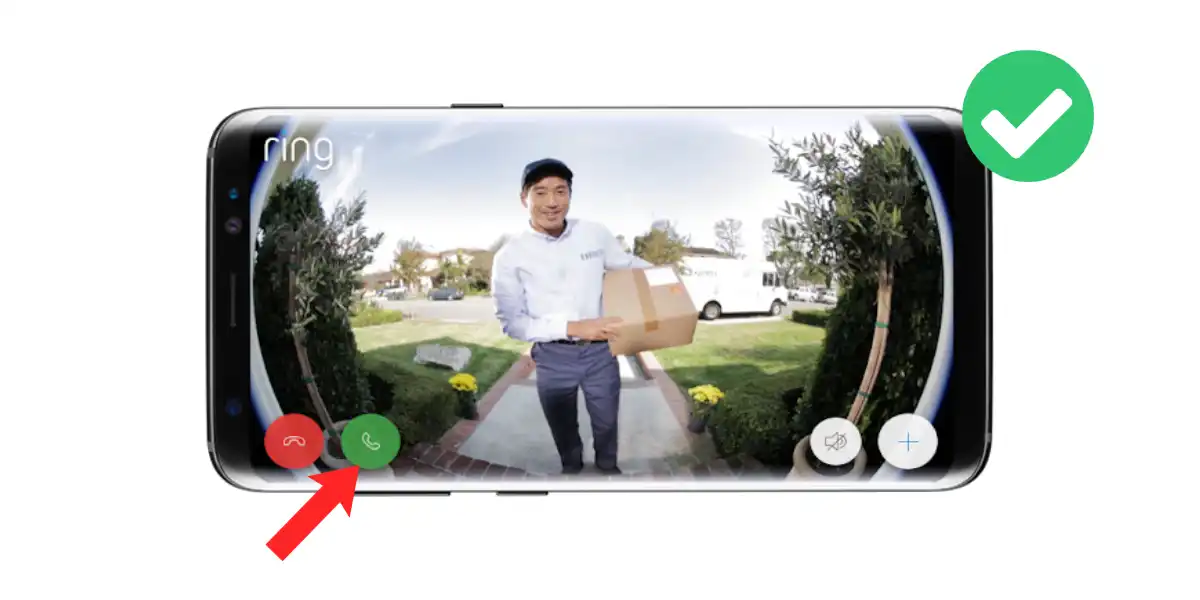 To enable two-way audio, tap the green button in the left corner. By doing this, you'll be able to hear what your visitor is trying to convey, and also make your voice heard.  
Troubleshoot Ring Doorbell Two-Way Talk Not Working
Understand Interface Icons Before Enabling
The Ring app's live view interface has various icons, which you need to understand before initiating a two-way audio talk with your visitor. Here's what these icons do:
Microphone Icon: This allows you to speak through your phone.
Speaker Icon: This allows you to hear outside.
Green Button: This allows visitors to hear your voice.
Must Read | How to Use Ring's Live View Interface by Ring Support
Check External Volume Controls
You may have reduced your phone's external volume for some reason and forgotten to turn it up. To make two-way talk audible, ensure that your smartphone's volume is set to a suitable level to hear the visitor.
Disconnect Any Active Phone Call
On some smartphones, using Ring's two-way talk while on a call may not work, as it may interfere with the sound. Make sure you end the call and use the two-way talk instead.
Ensure A Strong WiFi Connection
Poor wifi strength can cause ring doorbells to have audio issues. Ring doorbells work with WiFi, and if the connection is poor, the video and audio features will not function properly, including the two-way talk feature. Hence, ensure your Ring doorbell has a strong RSSI level to make everything work smoothly.
To check your current RSSI level, Open Ring App > Tap Menu (☰) > Devices > Select Ring Doorbell > Device Health > Check Signal Strength.
A good RSSI level for a ring doorbell is -40 or higher. If you're seeing an RSSI value between -66 to -90, consider it as poor signal strength. Here are some tips to improve the RSSI level on your Ring doorbell.
---
Read More On Ring Doorbell