Do you want to avoid paying the monthly membership fees for Ring doorbells and are searching for alternatives? If so, you are not by yourself. Many people desire a safe place to live without being obligated to pay monthly fees.
One of my friends recently asked me for advice on Ring doorbell alternates without subscription costs. He was worried about the overall price of a subscription and desired a more affordable choice.
I did some research and discovered several excellent alternatives for Ring doorbells that are just as dependable but less expensive.
I'll be discussing some of the top Ring doorbell alternatives without subscription fees in this blog article that I found while doing research. So read on if you're in the same boat as my buddy and want to learn about some low-cost choices for your home protection!
Do You Really Need A Subscription for Ring Doorbell?
It's possible you've heard that using your Ring doorbell requires a membership, but that's not exactly accurate. The fundamental functions of a Ring doorbell, including motion detection, two-way audio, and live video streaming, may be utilized without a subscription.
Many Ring doorbell users decide not to subscribe and still find the device useful for home security and convenience. While subscribing to Ring's Protect Plan gives access to features such as cloud video storage, advanced motion detection settings, and video sharing, many Ring users choose to do so.
It's important to keep in mind, though, that some Ring doorbell devices can demand a subscription in order to capture video. If you want these extra benefits, signing up for the Protect Plan would be a good idea. However, whether or not you require a subscription ultimately relies on your own needs and preferences.
So don't panic! You can still use your Ring doorbell and benefit from its fundamental features without a subscription to it. Additionally, you may always look for other Ring Doorbell alternatives if you wish to avoid subscription fees, and not compromise on advanced features.
5 Ring Doorbell Alternatives That Works Without Subscription
Eufy Security Video Doorbell
Looking for a video doorbell without breaking the bank? Well, look no further than the Eufy Security Video Doorbell! Not only does it save you from the dreaded monthly subscription, but it also offers a crystal clear 2K HD video. So, you'll be able to see if your neighbor's dog has been digging holes in your lawn again.
And with its fancy-pants HDR and distortion-correcting technology, you can say goodbye to those blurry and fish-eyed videos. It's like having a mini-Hollywood film studio right at your doorstep!
This Video Doorbell's lack of a monthly membership cost is even a great advantage. You won't need to be concerned about any unforeseen expenses or long-term commitments as a result. Additionally, it offers free access to local storage for up to 16GB of video recordings that you may view whenever you want.
The Eufy Security Video Doorbell also has customizable motion detection zones, two-way audio, and night vision. Additionally, you can voice-control it and integrate it into your smart home setting because it works with both Alexa and Google Assistant.
Overall, the Eufy Security Video Doorbell is a great Ring doorbell alternate that doesn't require a monthly charge. It is affordable, provides excellent video, and has a number of practical security functions.
Toucan Wireless Video Doorbell
If you're looking for a Ring Doorbell alternative, the Toucan Wireless Video Doorbell is a great option to consider. Its built-in rechargeable 6500 mAh Lithium-ion battery lasts longer between charges than my phone after a weekend binge of streaming shows. The improved WiFi and 100% wire-free design make it easier to install than assembling IKEA furniture (and trust me, I've been there).
With its 180-degree ultra-wide-angle lens and high-definition resolution, you'll be able to see everything from the ground up, including that pesky squirrel trying to steal your Amazon packages. And, it even has night vision, so you'll never miss a beat, even in the dark.
Forget about those costly subscription fees. The Toucan Wireless Video Doorbell offers free encrypted cloud storage and 24 hours of free recorded video history. Plus, you can download videos for free, and it has additional features such as instant notification, instant live feed, and even pre-recorded messages (cue the "I'm sorry, I can't come to the door right now" message).
Finally, the Toucan Wireless Video Doorbell offers customizable motion detection zones and 2-way audio. The new and improved motion detection zones help filter out real alerts from unwanted ones, and the built-in snooze feature allows you to turn off the motion sensor when needed. Plus, the built-in microphone and speaker allow you to talk to your visitors, making you feel like a high-tech spy.
In conclusion, if you're looking for a video doorbell that's easy to install, has a range of features, and won't break the bank (or your sense of humor), the Toucan Wireless Video Doorbell is the perfect alternative to Ring Doorbell.
AOSU Doorbell Camera Wireless
The AOSU Video Doorbell may be exactly what you need if you're seeking a Ring Doorbell alternative. Apart from having a wide viewing angle and a 4:3 aspect ratio, it also comes with a 2K high resolution that lets you see every detail, even the package on the ground.
The lack of a monthly membership fee is among its finest features. To save the burden of paying a monthly charge, it comes with an 8GB micro SD card that provides two months of safe local storage.
And if you're worried about false alarms caused by passing cars or wayward raccoons, fear not! The AOSU Video Doorbell's latest AI algorithms can identify humans in the video, so you'll only get alerts when you really need them. It's like having your own personal security guard, minus the awkward small talk.
But that's not all, folks. The AOSU Video Doorbell also has a signal-enhanced base station repeater for a more stable connection, quick reply options, and even a voice changer to protect your privacy. So go ahead, answer the door in your best Darth Vader voice – we won't judge.
Overall, the AOSU Video Doorbell is a great alternative to Ring Doorbell, offering a range of features that make it stand out from the crowd.
Lindo Pro Video Doorbell
Lindo Pro Video Doorbell is another Ring doorbell alternative that comes with a whopping 190° field of view, you can see people lurking around your doorstep and even detect packages that may be out of view of other doorbells. Plus, with triple detection technology, you can rest easy knowing that your doorbell won't be going off every time a stray squirrel runs by.
And speaking of packages, Lindo's intelligent AI package algorithm is the most accurate on the market. Say goodbye to false alarms and hello to accurate package detection. Plus, with a stable Wi-Fi connection thanks to Lindo's specially designed Wi-Fi chip, you won't have to worry about losing connection with your doorbell.
But wait, there's more! Lindo offers a variety of core features for free, including video history, activity zones, human and package detection, and HDR. And if you want to take it to the next level, Lindo also offers advanced features like longer video history, permanent event collection, and offline event recording.
So, if you want to keep an eye on your doorstep and protect your packages, Lindo Pro Video Doorbell is the way to go. Trust me, your doorstep will thank you.
Google Nest
See Also | Ring Doorbell: Wired Vs Battery – Which One Is Worth It?
Although Google Nest has a subscription model, it's crucial to remember that many of the capabilities included with a membership are not necessary for the most basic requirements for home security. You may continue to take advantage of high-definition video and audio, intelligent alerts, and round-the-clock live streaming with the Google Nest Hello Video Doorbell without paying any additional costs.
The Google Nest Hello is like having a bouncer for your front door – except instead of checking IDs, it checks for humans. Its motion detection is so advanced, it can tell the difference between a person and a stray cat trying to steal your packages.
And with a 160-degree field of vision, you'll be able to spot even the sneakiest of porch pirates. Plus, with continuous video recording, you'll never miss a beat – even if it's just your neighbor's kid playing ding-dong-ditch again.
The Google Nest Hello's ability to work with Google Assistant, which enables voice control of your doorbell and notifications to be received on your Google Home devices, is an additional advantage.
Overall, the Google Nest Hello is a top candidate as a Ring doorbell alternative without a membership price despite the possibility of extra capabilities like face recognition and personalized activity zones being available with a subscription. For those who have already invested in Google's technology, it's a wise pick because of the extra benefit of integration with the Google Home ecosystem.
Wrap Up: What I Recommend?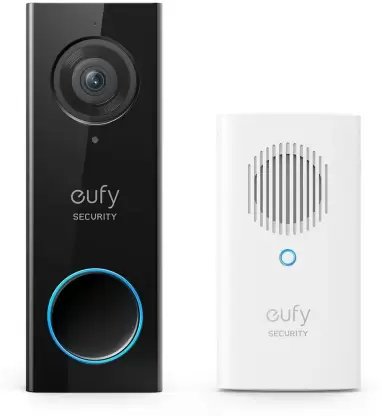 The Eufy video doorbell is a great choice if you're searching for a dependable and economical video doorbell that doesn't require a monthly charge. You can be confident that you'll never miss a visitor or package thanks to its 2K resolution, improved night vision, and AI-powered human detection. Additionally, you can always keep an eye on the entry to your home with the wide-angle lens and easily-customizable motion detection zones.
The Google Nest Hello, on the other hand, is a fantastic option if you don't mind paying a monthly fee but still want a premium video doorbell with cutting-edge capabilities. You can be confident that you have a clear view of your front entry thanks to its advanced motion detection and 160-degree field of vision. You may always be aware of what is going on outside your door thanks to continuous video recording and intelligent notifications.
At the end of the day, both the Google Nest Hello and the Eufy video doorbell have unique qualities and advantages that make them stand out as alternatives to the Ring doorbell. Your personal tastes and financial situation will all be factors. Therefore, whether you select Eufy or Google Nest, you can be sure that you have made a solid and useful decision about a video doorbell to increase the security of your house.
---
Read More On Ring Doorbell