Ring Doorbells are quite a peace of mind if you ask me, but to my surprise, when I first heard about them, I had an assessment they would be more or so the same as other doorbells but more digital.
But I was excited to learn that Ring Doorbells not only lets you see who's at the door but also allows two-way talk, and the cherry on top is you can see the person using the monitor.
Technology is truly a blessing, and when it comes to multiple options, one should count blessings as well, as there are many compatible monitors you can choose for your Ring Doorbell. Let's dig more to find out.
See Also | How to Save Ring Doorbell Video Without Subscription? 4 Ways
Can You Use Monitors for Ring Doorbells?
Although Ring Doorbells are primarily designed to be used on a smartphone or tablet through the Ring app, it isn't limited to smartphones, you can also use other monitors to watch and communicate. 
List of Monitors That Work With Ring Doorbell
Ring Doorbells have made life convenient in terms of how we perceive safety and ease. All you have to do is look up a compatible monitor so you can see if there's a delivery person at the door or just some intruder trying to break in.
With two-way talk, you can ask the delivery person to drop the parcel at the door while watching on your monitor. It's an exciting idea and practicality-wise, finding a compatible monitor and setting it up is easier.
Here's the list of some of the compatible monitors:
Eco Show Series Monitors
As Amazon owns both Ring and Echo, it shouldn't come as a surprise that Echo smart display integrates perfectly with Ring Doorbells. Some models in Echo Show series work seamlessly with Ring doorbells.
Echo Show 5
Echo Show 5 is a 5″ screen monitor that comes with multipurpose functionality as it can be used to make video calls, has personal assistant Alexa who can answer calls, and all the other smart home stuff. You can easily integrate Echo Show 5 with Ring Doorbell to see and talk with anyone at the door.
Echo Show 8
Echo Show 8 is more prominent in the Echo Show series and comes with an HD display beside a built-in voice assistant Alexa. Echo Show 8 can easily be set up with Ring Doorbells to use as a monitor.
Echo Show 10
Echo Show 10 is a 10.1" HD screen monitor with multiple benefits. Besides using it for other purposes, you can easily voice control your home by integrating it with Ring Doorbell.
Smart TVs Using Fire TV Stick
Just like Echo Show models, Fire TV Sticks are also Amazon-designed products. As part of the same ecosystem, both devices work seamlessly together so that you can view who is at your door on your Smart TV.
Fire TV Cube
Fire TV cube is a streaming box set up that you connect to your smart TV using a cable. It comes with a built-in voice assistant Alexa. You can easily integrate Fire TV to Ring Doorbell, and if someone knocks at the door, all you have to say is Alexa, who is at the door, to see the person on Smart TV.
Fire TV Stick
Fire TV Stick is a much smaller streaming device that looks like a dongle. Unlike Fire TV, it doesn't need a wire to be connected to a TV. All you have to do is plug the HDMI end of the streaming stick directly into your TV's HDMI port and integrate it with Ring Doorbell so that you can see the door front on Smart TV.
Google Nest Hubs
Google Nest Hubs and Ring Doorbells are offered by two different companies which are competitors in selling innovative home products. So, you should expect some interoperability between the two devices, as connecting both will be slightly trickier. It isn't difficult at all, and both work well.
To connect them, you will need to download the Google Home app, Nest app, and Ring app on your smartphone or tablet. Also, there are some limitations. For example, you cannot see the live video feed.
Phone's Live View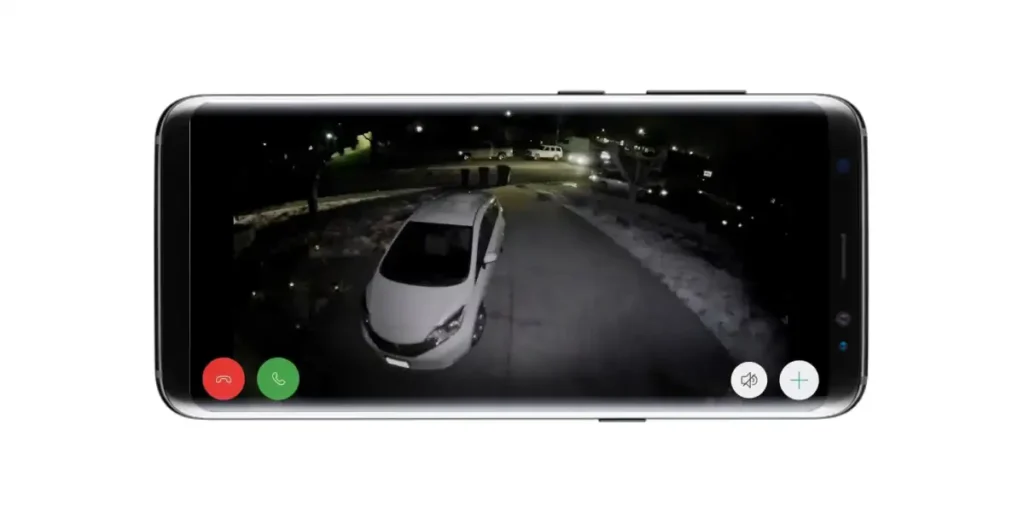 The most significant advantage of Ring Doorbells is that they provide Live View, so you don't get up whenever there is a ring or knocking at the door. You can see the Live View on the Ring app or ring.com.
Also, you don't need a protection plan to see Live View, but you can also see the video recordings if you have a Production plan of ant tier. Moreover, if you have a shared account with someone else, they can also see the Live View.
Whenever you want to see the Live View, you can open the Ring app and tap on a Snapshot image from the doorbell or security camera to see the Live View. Similarly, if you want to access Live View on Ring.com, you will have to log in first on the browser with a Ring account.
Wrap Up
Technology is meant to make lives more accessible, and Ring Doorbells are a prime example of that. Ring Doorbells not only provide security and utility but also come with multiple compatibility options. Sometimes, you don't want to see notifications or LiveView on your smartphone all the time.
An alternate solution is to use monitors to see the Live View and communicate Two-Way. Products, especially from Amazon, like Echo Show series smart displays or media streaming players like Fire TV or Fire TV Stick, should be your go-to choice.
Alternatively, you can choose base or premium models of Nest Hubs, which are also efficient smart display systems. Still, if you don't want to go for any other option, the Live View and Two-Way talk is free on your smartphone using the Ring app.
---
Read More On Ring Doorbells