If you live in a place where you have enough space on the front door, Ring Doorbell's Live View and Video Recording feature work like a charm. However, the issue arises when you have a narrow space or narrow doorframe, and you will likely face installation issues.
It's true that the field of view for the footage captured by a Ring Doorbell can be limited, and in some cases, the Live View may be obstructed by walls or other obstacles, resulting in a blind spot. This can impact the overall effectiveness of surveillance in certain scenarios.
In such a scenario, you cannot see who is at the door, and if the intruder tries to break in, you will be left without any evidence. Fret not, and this guide explains how you can make your Ring Doorbell work efficiently in a narrow workspace.
Why Narrow Space Creates Issue With Ring Doorbell Installation?
A narrow space with no flatness can cause trouble installing. Also, your Ring Doorbell faces obstructions blocking video capture due to narrow space. By using a wedge kit, you can install a Ring Doorbell at a suitable place so the Live View and Video Recording features are not obstructed.
5 Tips to Mount Ring Doorbell on A Narrow Surface
If you are also struggling to mount Ring Doorbell on a narrow surface, we have some tips and methods to make installation easier.
Buy a Wedge Kit
Ring separately sells Wedge Kit, which usually starts at $19.99. If you have a narrow doorframe or low wall, it's best to use a wedge kit so that you can see the face of the person. The benefit of wedge kits is that you can vertically tilt them to a certain degree to capture a better view.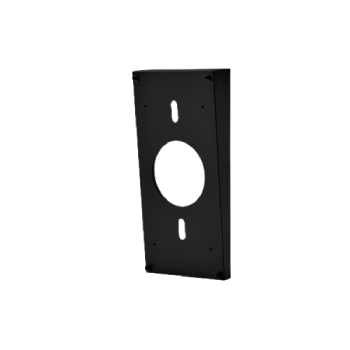 Keep in mind that a wedge kit is different for each model. Always buy a wedge kit according to your model. You can install the Wedge Kit by drilling holes after marking the specified places with a pencil.
Use a screwdriver to tighten the Wedge Kit using screws and washers. Once the kit is fixed, you can easily put the camera inside the bracket.
Corner Kit
The corner kit is a somewhat slightly different solution for narrow doorframes. It offers custom angle adjustments of 15, 30, and 45 degrees.
When you set a Ring Doorbell in the corner of a narrow frame, a sidewall will not obstruct the Live View. Like Wedge kits, Corners kits are also custom-made for different Ring Doorbells.
Corner Kit requires manual installation as you have to drill four holes after marking the signs with a pencil. Then you need washers and screws to fix the Corner Kit on the wall tightly. Once the kit is fixed, you can put the Ring Doorbell inside the bracket.
Mount On the Wall
If you don't like drilling on the wooden door or you don't want to mount the Ring Doorbell on a narrow frame door, you always have the option to mount your Ring Doorbell on the wall. A practical and easy solution if you have a battery powered Ring Doorbell.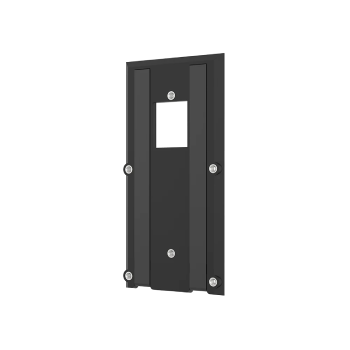 For those with a wired Ring Doorbell, it's advisable to seek professional assistance if you lack knowledge in wiring. Additionally, installation requires wall drilling. However, if you reside in a rented apartment, you can utilize Ring's No Drill Mount as an alternative.
Go for Ring Peephole Cam
If you don't want any hassle, go for the Ring Peephole Cam. This tiny cam is specially designed for narrow doorframes and narrow spaces. Ring Peephole Cam has the same features as Ring Doorbells, such as full HD video, infrared night vision, and two-way communication.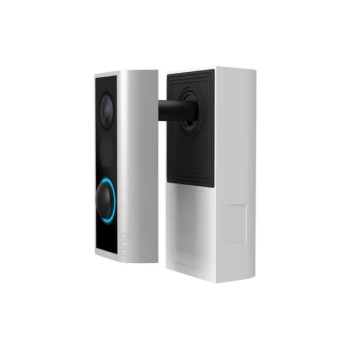 There are two differences, however. First, Ring Peephole Cam is installed inside the home, and its impact sensor notifies you if someone is at the door. Secondly, unlike most Ring Doorbells, it doesn't come with a chime, so you will have to buy that separately.
Mount on The Door
If you can't find a place where you get a better Live View, you should consider mounting your Ring Doorbell on the door.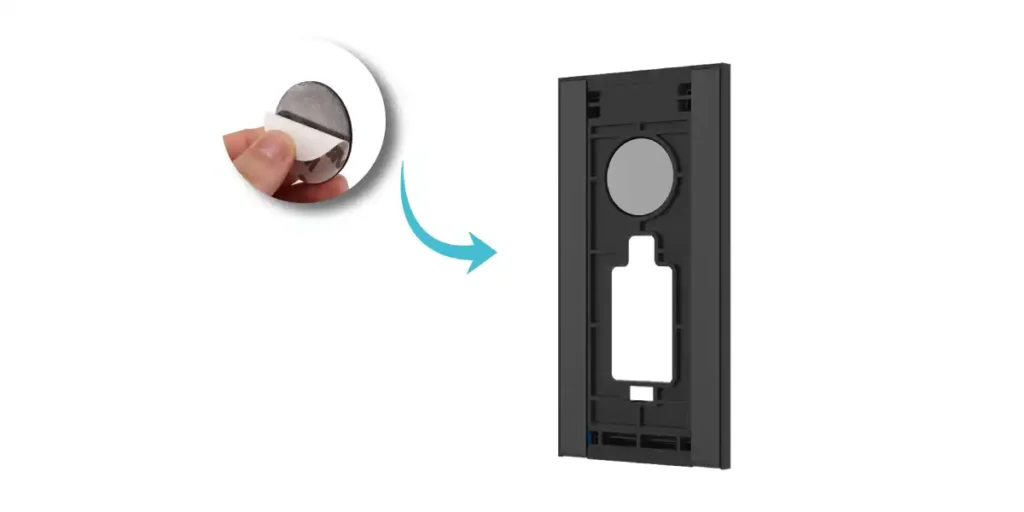 This option is a practical option if you live in a rented place or don't want to do the drilling. To mount the Ring Doorbell on the door, you will have to buy Ring's NO Drill Mount separately.
Please keep in mind that you cannot use a wired Ring Doorbell on the door as wiring comes in the way, and the door won't function properly.
Use These Ring Doorbells If You Have a Narrow Frame
There are two types of Ring Doorbells; wired Ring Doorbell and battery-powered Ring Doorbell. The choice narrows down to what you find easier.
If you are installing the Ring Doorbell on the doorframe or in a narrow space close to the door, then you can go for Ring Pro 1 and Ring Pro 2 or any wired Ring Doorbells.
Wired Ring Doorbells may be a suitable option as they provide the same features and functionality but at affordable prices. Go for the wired option only if you live in your own home or apartment.
If you are unable to mount a camera on a doorframe or in a narrow space and don't want to chisel the doorframe, then battery powered Ring Doorbells are a suitable choice. You can choose Ring Doorbell 2nd Generation, Video Doorbell 3, Video Doorbell 3 Plus, or Video Doorbell 4.
Wrap Up
There are installing issues that you can face when you have a narrow doorframe, narrow wall, or if your door is in a narrow alley. The Ring Doorbells, however, are adaptable to such situations.
It all comes down to find a suitable angle where you can get the best of Live View and Video Recording features. We have discussed 5 possible solutions, and you can choose whichever is convenient for you.
It is best to inspect first where you want to install the Ring Doorbell, either on the door or doorframe; then, you can choose the Ring Doorbell model accordingly.
Wired Ring Doorbells will work fine on narrow walls or narrow doorframes if you could make adjustments. Whereas, battery powered Ring Doorbells will work great on doors.
---
Read More on Ring Doorbell