At times, people get confused between two terms; water-resistant and waterproof. I am also one of them, especially when I bought my first Ring Doorbell Pro 2. As the Ring Doorbell is installed outside, and I was worried about Ring Doorbell getting wet as it rains a lot.
After some discussions over the Ring Doorbell technicalities, I can tell which term we can use for Ring Doorbells. Also, what can you do if your Ring Doorbell gets wet?
Are Ring Doorbells Waterproof?
Ring Doorbells are not weatherproof. You should not install them in a location where they are at risk of being damaged by high-pressure water or where the water may fall on them for a longer period of time.
Water-resistant products resist water to some degree, but moisture can still penetrate them over time or under extreme pressure. In contrast, waterproof products prevent all water penetration, even when submerged or subjected to significant water pressure.
As Ring Doorbells are not waterproof, so you won't see any IP rating of IP67 or IP68 mentioned on the packaging.
Can Ring Doorbell Withstand Rain and Snow?
Ring Doorbells and Ring security cameras are both water-resistant, they are able to survive the typical amount of precipitation, including rain and snow.
Even though Ring Doorbells are designed to physically survive extreme weather, it may still have an impact on their operation. For instance, doorbells are equipped with lithium-ion batteries; if the temperature drops below zero degrees because of snow, the batteries may become inactive, and the doorbells won't function.
🤔 How Do You Dry Out the Ring Doorbell If Wet?
All electronic devices need protection from harsh weather conditions, whether extremely cold or hot, thunderstorms, or heavy snow falling.
Ring Doorbells are water-resistant only, so they can get wet easily and can't resist for long. Although the front of the Ring Doorbell is not that vulnerable to rain, its battery compartment is prone to corrosion or, in extreme cases, to water seepage.
You can follow these steps if your Ring Doorbell gets wet:
Dry Out Your Doorbell
Ring Doorbells don't absorb water, and this should come as a relief as the body of Ring Doorbells is made up of different metals, and we know that all sorts of metals are non-absorbant of water. Also, with metals, the water doesn't stay on the body.
In fact, it dribbles down. Although some water droplets may stay on the surface, you might want to wait for them to dry out. Otherwise, you can use a towel or some other clothing to dry the Ring Doorbell.
Use Ring Doorbell Covers
There is a wide variety of covers available to choose from in order to hide the top portion of the Ring Doorbell. Not only do these water-resistant coverings hide the Ring Doorbell from the glare of the sun during the day, but they also protect it from the rain's damaging effects. You will also get better video quality as these covers are also anti-glare to protect the camera from the sun's rays.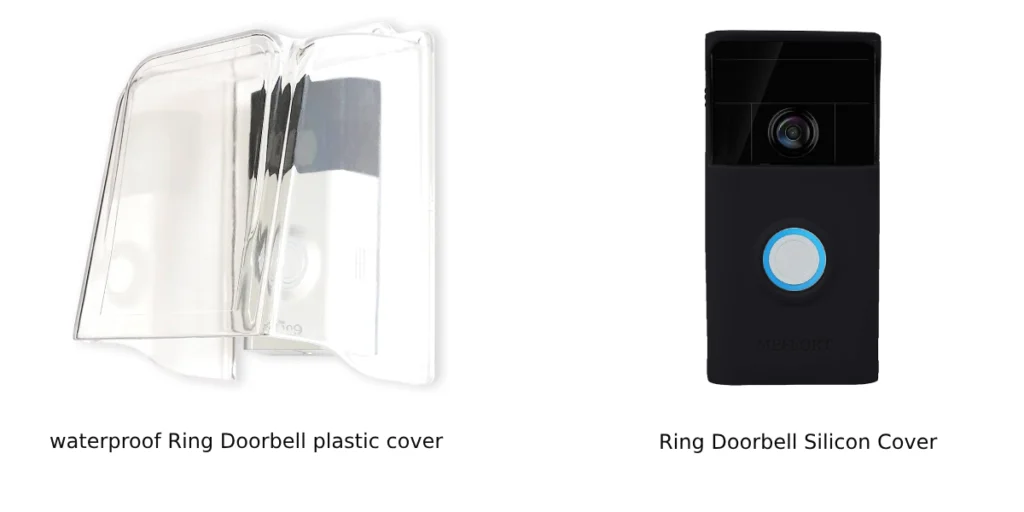 If you are into DIY (Do It Yourself), you can cover the Ring Doorbell with a plastic rain cover. These plastic rain covers are good at protecting the Ring Doorbell as they cover the whole body. If your DIY is not good aesthetically, it may give a bad look to your Ring Doorbell.
Alternatively, you can buy a waterproof Ring Doorbell plastic cover.
Silicon skin case covers are a better alternative to waterproof plastic covers as plastic covers are thick, which means the camera's sensor may struggle to notice motion and send notification alerts.
Silicon skin case covers are very thin and light, and they also provide UV protection. Please always check your model before purchasing a silicon case cover.
Is there Any Accessory that Prevents Ring Doorbell from Getting Wet?
There are different accessories that can protect your Ring Doorbell. In fact, you should go for these accessories as they protect your Ring Doorbell and help in better video quality, as overhead accessories also block the sunlight. You can choose any of the two following options if you are looking for a 2-in-1 solution.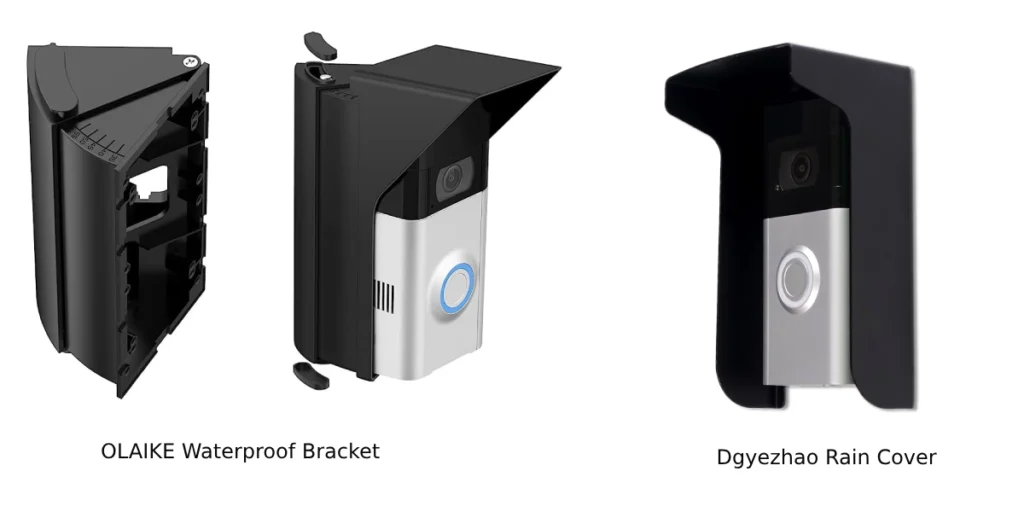 OLAIKE Waterproof Bracket
OLAIKE Waterproof Bracket is useable for almost all of the Ring Doorbell models. The plus benefit of this bracket is its ability to adjust the mounting angle from 30 degrees to 60 degrees.
An adjustable angle allows you to adjust the angle left or right so you get a wider view. With a waterproof and anti-glare design, you get a better-quality view.
Dgyezhao Rain Cover is a more flexible option as it comes in two choices; Inward fold and outward fold. You can go for the inward fold option if you haven't installed the Ring Doorbell yet.
If you've installed the Ring Doorbell already, go for the outward fold option. With this option, you won't have to do any extra work on the pre-installed Ring Doorbell as you tighten the screws outside.
Wrap Up
All electronic gadgets, even Ring Doorbells, can get wet, and that's why accessories exist. These accessories protect the device from external factors like rain and harsh sunlight and prolong the Ring Doorbells' physical life. There are many ways to protect your Ring Doorbell.
You can go for the Ring Doorbell plastic covers, or silicon case covers can protect your device with a basic DIY. Also, you should choose a cover that doesn't affect the camera sensor's ability to detect motion so that you can receive notifications without any hindrance.
---
Read More On Ring Doorbell