Ring Doorbells are a one-stop solution for the security of your family and home. However, as it happens with electronic gadgets, they are vulnerable to hacking.
We have even seen cases of end-to-end encryption devices and conversations being compromised due to security breaches. Ring Doorbells are also prone to such vulnerabilities of being hacked.
What you can do is learn about how hacking works and how to tell if your Ring Doorbell or camera has been hacked. Once you know the probable reasons, you can always take preventive measures.
⚠️Disclaimer⚠️This blog intends to educate you as we value your family's and home's safety. Please note that hacking methodologies are highly discouraged, and you should read them only for educational purposes to avoid any mishaps.
Can Someone Turn off Your Ring Camera or Doorbell?
If you own the Ring Doorbell, then as an administrator, only you can deactivate the Ring Doorbell. However, if someone hacks your Wi-Fi network, they can disable your Ring Doorbell, leaving you without access to it.
7 Signs to Tell If Your Ring Doorbell or Camera Is Hacked
One always looks for the signs before one can make a conclusion. If you own a Ring Doorbell, you should know that hacking into Ring Doorbells is not that easy.
But the probability of its happening is not out of the question either. What we can do is educate ourselves about the potential signs so that steps can be taken to avoid the hacking of Ring Doorbell.
Wireless Jammer
Wireless jammers can distort the Wi-Fi signals. When distortion happens between sending and receiving ends, a gap occurs in video captures. A wireless jammer makes a frequency of 2.4 GHz to 5 GHz bands, making it difficult for Wi-Fi to function.
This distortion makes it difficult for Ring Doorbells to capture video sent back via its servers. If you see strong distortion in the video, take this as a sign of someone trying to hack your Ring Doorbell.
Settings Compromised
If you notice on the Ring app that you are not getting the notifications and other security features are disabled, then it's highly likely that someone at home may have altered the settings. It isn't strictly hacking, but as an administrator on the Ring app, make sure that you don't give access to everyone.
Unauthorized Recordings
If you notice that there are Live View recordings in your device history and you didn't start them, it means there's an issue with settings in the Ring app. If there's no issue with device settings, then chances are someone is tempering with your Ring Doorbell. You will have to change the password urgently.
Overused Data
Ring Doorbells use Wi-Fi to provide live footage and send video recordings to the cloud. All of this activity uses data that you should keep in check. But if you notice that many Live View recordings are being uploaded, which uses a lot of data, it is a sign that your Ring Doorbell is compromised.
Infrared Light in Disarmed Mode
You can also check whether the Ring Doorbell is hacked. When you are in, set your Ring device to Disarmed Mode, and it will not send any notifications as Motion Sensors go into Disarm mode.
Now, if you see the infrared light still turned on at night while the Ring Doorbell is in disarm mode, it is likely that someone else is watching your live feed. You should change the router's password immediately and make sure that end-to-end video encryption is enabled.
Login History
Ring Doorbells give you access to the Ring app. Using the Ring app, you can access settings, check features, update the firmware, and many other things.
You can also check the login history, and if you see any unauthorized logins from unknown locations, it means that someone has broken into your camera settings as your security is compromised.
If you see suspicious logins, you can delete the unauthorized user and reset the password for the Ring app (iOS & Android).
Unfamiliar Voices
Ring Camera supports Two-Way Communication, allowing you to listen and speak using the Ring app. Now, you can converse only if someone is at the door.
However, if, for some odd reason, you hear voices or sounds even if nobody is at the door. It means your Ring Doorbell is compromised, and someone is spying on you by playing tricks on unusual voices.
End-to-End Video Encryption on Ring Devices
Ring Doorbells ensure the security and safety of the family, and video recording and Live View are two key features that give information about everything happening in your surroundings. A few years ago, hacking into Ring Doorbells might have been easy due to security loopholes and fewer protections.
However, you can ensure security by two-factor authentication. As of September 2022, announced support for video end-to-end encryption so your video data is not compromised.
If you've the following Ring devices, enable end-to-end video encryption using the steps below: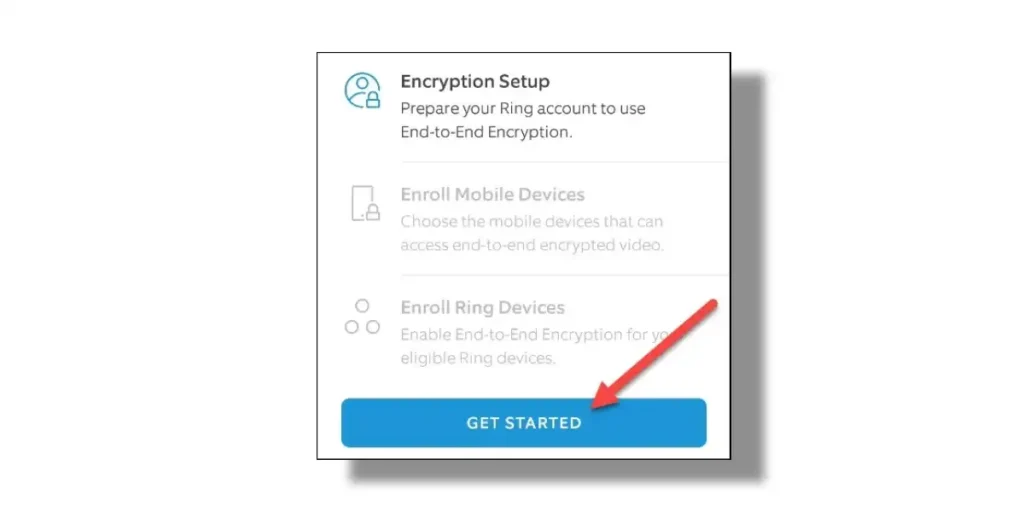 Before enabling the feature, ensure that the Ring app is up-to-date.
Open the Control Center page in the Ring app after selecting the menu.
Tap Video Encryption.
Tap Advanced Settings.
Tap Video End-to-End Encryption.
Tap Get Started.
Follow the on-screen instructions to complete the process.
Wrap Up
It is always better to check for hacked signs for the Ring Doorbell from time to time to ensure the security and safety of your family and home.
You can always take precautionary measures like changing the default username and password, using two-factor authentication, limiting the number of shared users, and enabling video end-to-end encryption.
By staying alert to any compromising signs and taking security measures instantly, you can avoid the issue of your Ring Doorbell being compromised altogether.
---
Read More On Ring Doorbell & Camera