After purchasing the Ring Video Doorbell 4, the next item I needed to get was a chime that was compatible with the Ring Doorbell. When I moved into a new apartment without a doorbell chime. After exploring different options, I decided to go with the Ring doorbell chime.
It's fascinating to note that there are four distinct types of chimes that work with the Ring Doorbell; I'll discuss each choice and will assist you in coming to a decision that is better suitable for your situation.
Recommended | How to Change Ring Doorbell Sounds? (Try These Ringtones!)
Ring Doorbell Compatible Chimes We Recommend
When Ring Doorbells was launched, Ring didn't introduce Ring chimes initially, but later they launched chimes compatible with Ring Doorbells. Over the years, chimes have advanced as you can control them with Alexa Devices. So, we discuss both options below:
Official Ring's Chime
Ring officially sells two chimes; Ring Chime and Ring Chime Pro. Ring Chime starts at $28, and you can hear the notifications anywhere in the house, whether someone presses the Ring Doorbell or when motion detection detects any motion.

Ring Chime Pro is available at $60 and comes with extra functionality. It gives louder notifications and has an extended Wi-Fi range due to dual-band 2.4Ghz & 5GHz Wi-Fi connectivity. It also has a built-in nightlight that turns on automatically in the dark hours.
Ring Chime and Ring Chime Pro are compatible with all the Ring Doorbell models and other Ring security cams. You can also snooze both chimes using the Ring app to avoid distraction during specific hours.
Alexa Devices
You can use smart devices such as Alexa, or if you are thinking about purchasing one, you can use the Alexa app to set up notifications for your Ring doorbell using your smart device instead. You can utilize a variety of different devices that are compatible with Alexa, such as smart displays and smart speakers.

Amazon Echo Show, Echo Show 5, Echo Show 8, Echo Show 10, and Echo Show 15 are smart display devices compatible with Alexa. These smart displays provide two benefits; you can use them to Live View and Ring Doorbell notifications. To get a Live View, you can say:
"Alexa, show [Ring Device Name]"
"Alexa, show my [Backyard or Front Door]."
Alexa-compatible devices from Amazon include smart speakers such as the Amazon Echo, Echo Dot, Echo Studio, and the recently released Echo Pop. You may use these smart speakers to synchronize with the Ring Doorbell in order to hear notifications on smart speakers.
List of Ring Doorbell Compatible Chimes (By Category)
If you are old school and like things to work the old-fashioned way, you can choose mechanical chimes. Or, you can choose a more advanced option of electronic chimes that works like mechanical chimes. Electronic chimes are only different from mechanical chimes as they have pre-recorded tones and volume control.
However, with electrical chimes for Ring Doorbells, you have the option of plugging into a power outlet. This is in contrast to mechanical chimes, which must be hardwired because of their old nature.
Mechanical Chimes
If you have a pre-installed box and hardwiring, you can choose the following Mechanical chimes for Ring Doorbells.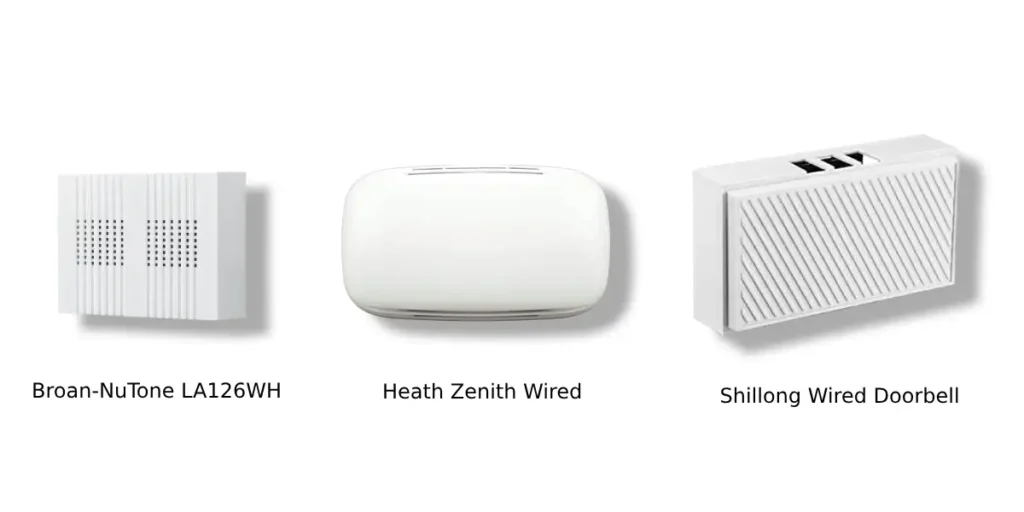 Broan-NuTone LA126WH: Broan-NuTone chime is a classic chime that comes with two sounds; Ding-Dong for the front door and Dong for the back door.
Heath Zenith Wired Door Chime: You can buy this chime for just $18, and it has a pre-set traditional Ding Dong sound. It has a custom-built 2-note sound for the front door and a 1-note sound for the back door. You can install this chime either horizontally or vertically.
Shillong Wired Doorbell Chime: This mechanical chime for the Ring Doorbell can be purchased for just $22 right now. Its standard configuration features a Ding-Dong sound for the front door and a Dong sound for the back door.
Electronic Chimes
You can get electronic chimes, which come with a variety of pre-recorded tones and a volume control option if you prefer sounds that are different from the standard Ding-Dong pattern. The following is a list of electronic doorbell tones that are compatible with Ring doorbells, from which you can make your selection.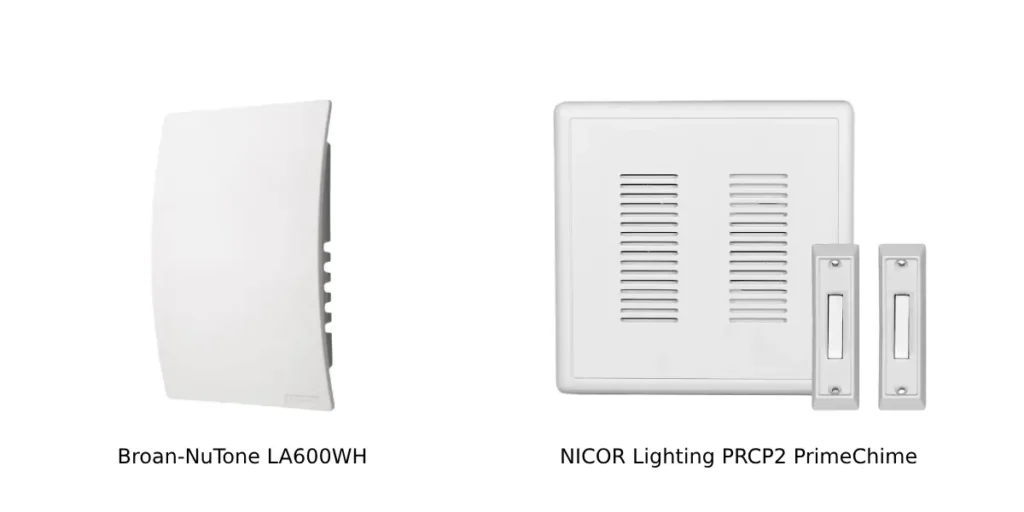 Broan-NuTone Universal Wired/Wireless: This electronic chime comes with 8 pre-recorded sounds, and allows you to upload your music files. You can also customize the sounds as per the occasion.
NICOR Lighting PRCP2 PrimeChime: NICOR PRCP2 PrimeChime features two standard white, lighted doorbell buttons and is compatible with Ring, Nest, and other popular video doorbells. With easy installation, a customizable matte white faceplate, and two distinct chime tones, it's the perfect addition to your smart home setup.
Ring Doorbell Chimes: Which One Will Be the Best For You?
Choose Official Ring Doorbell Chime
If you live in a new home or apartment, you should go for official chimes sold by the Ring. They are aesthetic and efficient, and you can mount them into any powerlet.
Choose Alexa Device As Your Ring Doorbell Chime
If you looking for the benefit of smart displays and smart speakers, you can avoid spending money on Ring Chime altogether. Alexa-compatible devices give you Live Views and Notifications on smart displays without spending extra money. You can easily integrate Ring Doorbell into any Alexa device.
Choose Mechanical or Electronic Chimes
If hardwiring is installed already, and you like things old-fashioned, choose mechanical or electrical chimes. Mechanical chimes are classic Ding-Dong chimes and require manual installations. Whereas, electrical chimes are a bit more flexible option as they come with more tunes and volume controls.
If we had to recommend one of these four chime options, we'd advise choosing either the Ring Chime or an Echo Smart Device. Both options allow you greater choice over how you wish to listen and keep an eye on your front doors, are practical, and are easy to install.
---
Read More On Ring Doorbell