Ring Stick Up Cam is a great security companion. I say companion because it's wire-free; you can take it or mount it anywhere. Also, if you don't want to mount it, you can just place it on a flat surface where you can monitor the surroundings.
However, as someone who lives in an apartment and has to change frequently due to work nature, Ring Stick Up Cam is a perfect choice. Even if you don't change places, it's a great option as it saves you a lot of technical hassle and is considerably cheaper than other Ring models.
I will explain how to install Ring Stick Up Cam with many mounting options available.
Top 9 Ring Stick Up Cam Mounting Options
A Ring Stick Up Cam without a mount is just like a gadget standing upright. Now, if you mount or keep the camera on a wall or roof, it will give you a view of the opposite wall or home, but you don't want that.
You would like to tilt the Ring Stick Up Cam downside or sideways as you prefer. That's where different Ring Stick Up Cam mounting options come in, so you choose according to your place.
Let's discuss some of the mounting options:
Pan/Tilt Mounting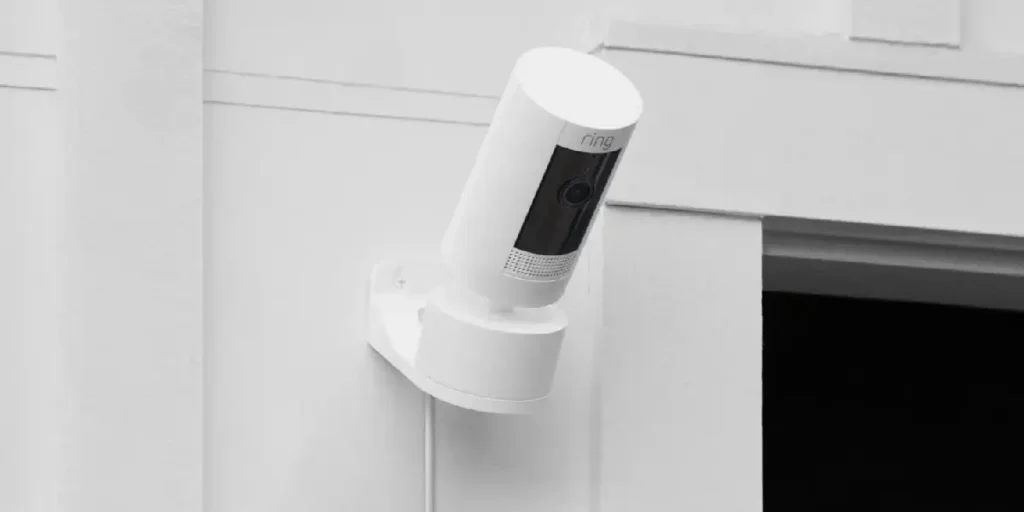 Pan/tilt mounting is a great option for both outdoor and indoor use. A stationary Ring Stick Up Cam gives a 130-degree field of you, but with Pan/Tilt Mounting, you get a 360-degree field of view, as you can rotate the camera in any direction. A weather-resistant design means you can use it outdoors without any worries.
Gutter Mounting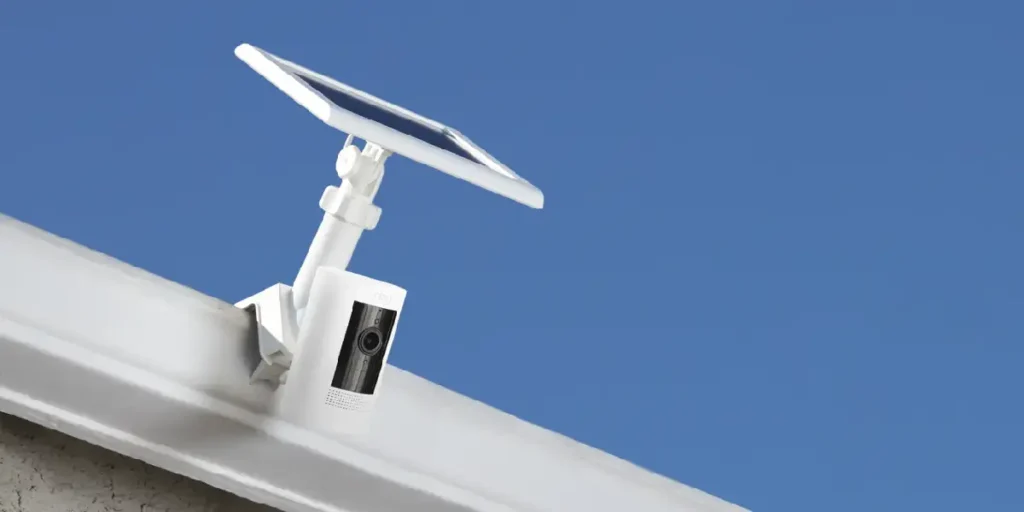 If you have a roof with a gutter, it can give you an elevated field of view compared to mounting Ring Stick Up Cam on a wall. Also, the Gutter mounting option comes with a solar panel, so you won't have to unmount the camera for battery charging if it runs out of charge.
No drilling is required on the gutter, and you can adjust Ring Stick Up Cam to your desired field of view and solar plate for proper sun exposure.
Wall Mounting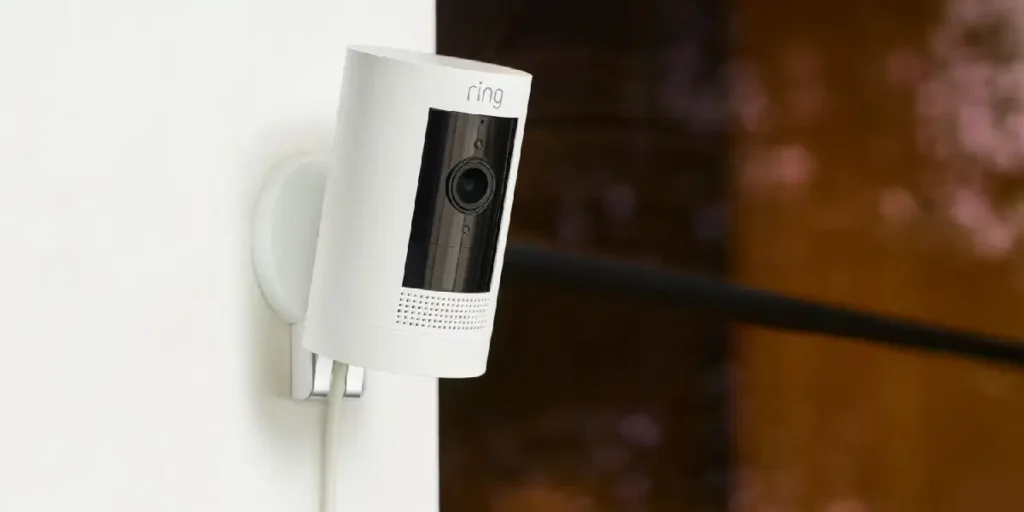 The easiest option for most people is wall mounting. All you need is 3 holes drilling, and you can mount the Ring Stick Up Cam. This 3-pack wall mounting option comes with an adjustable mounting bracket.
It has 360-degree swivel options and a 90-degree tilt option, so you can easily adjust the Ring Stick Up Cam. As it's an easy install option so you can use this mounting bracket for indoor and outdoor use.
Wall Corner Mounting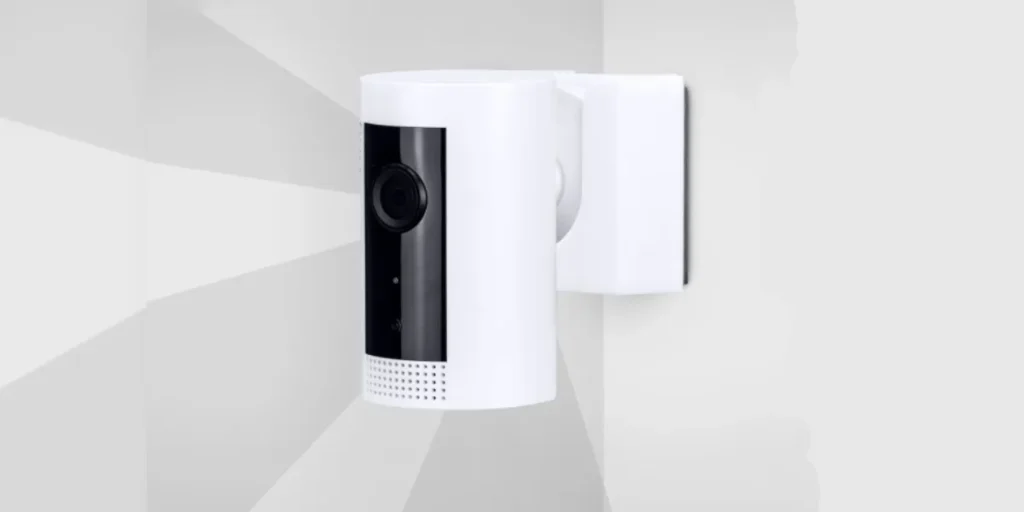 Sometimes you want a view of the garage and the adjacent view of the garage, so your best bet is to install the Ring Stick Up Cam on a wall corner.
Another benefit of wall corner mounting is that if you park your car in the driveway instead of the garage most of the time, you can adjust the camera angle in a way that you can LiveView on your Ring app. It has a 360-degree swivel option and a 180-degree field of view adjustment option.
Pole Mounting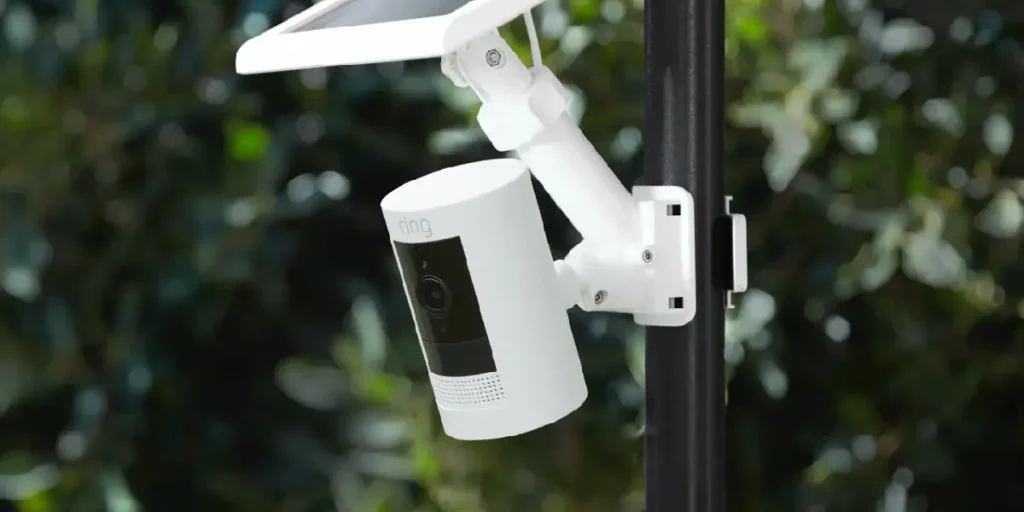 There's always an option of pole mounting if you have railings, pipes, or poles nearby. With their elevation, Poles give a much wider field of view, and if you are going for a solar option too, you get maximum sunlight exposure.
With the pole mounting option, you don't have to worry about drilling on the wall if you are too conscious about the aesthetics of your home. Although with the pole mounting option, you must ensure the pole is sturdy enough not to distort the Ring Stick Up Cam's LiveView.
Clamp Mounting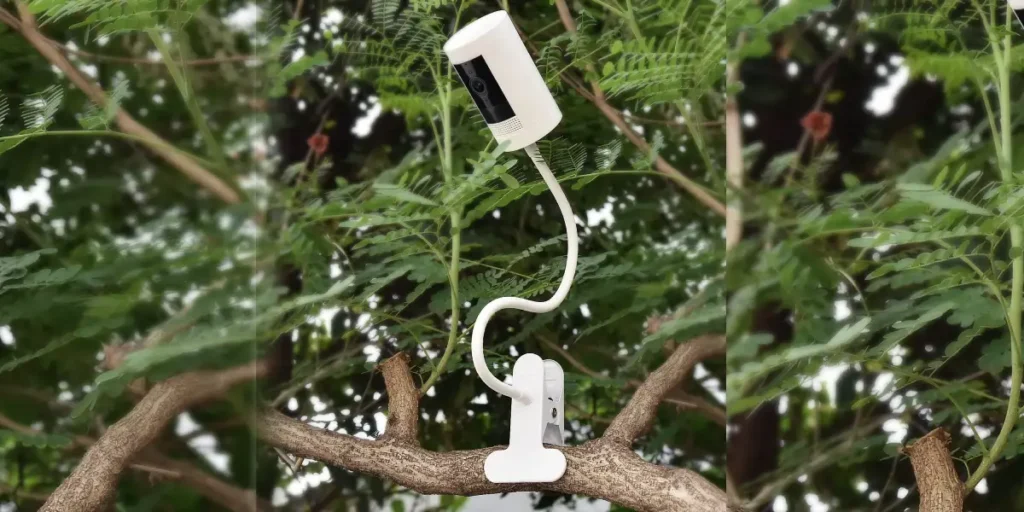 Who doesn't love options? When given clamp mounting options to attach to flat panels, wooden boards, eaves, gutter edges, railings, furniture and other fixtures, why not go for it? You can adjust this flexible clamp mount bracket on up to 2.2 inches thick surface, and it comes with an arm's length of 8.3 inches.
A long arm's length is a great option if you are installing Stick Up Cam on a tree's branch, and you can adjust the arm correctly. It doesn't damage the wall or any other surface as it requires no drilling, and the clamp has a foam surface, so you can use it on the eave, furniture, or gutter without worrying for scratches.
No-drill Mounting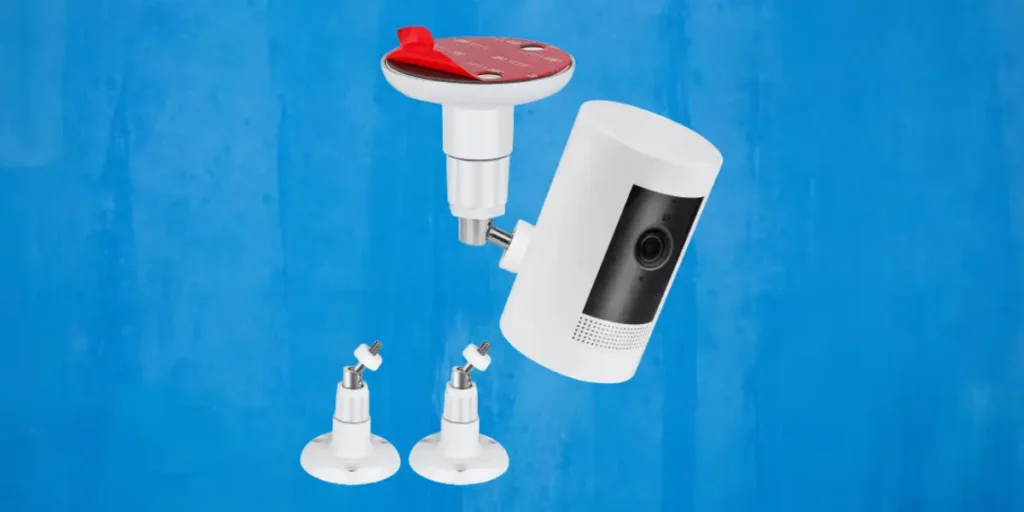 Sometimes you don't have a pole or gutter option to mount the Ring Stick Up Cam, and your only option is wall mounting or ceiling mounting. However, you don't want to do the drilling either. A no-drill mounting bracket is the only no-brainer option.
A no-drill mounting has a VHB tape on the bottom of the bracket, and you can easily stick it on the wall. Remember that the wall surface has to be perfectly flat and clean for proper cohesion, as VHB tape is adhesive. It is a suitable option for both indoor and outdoor use.
Ground Stake Mounting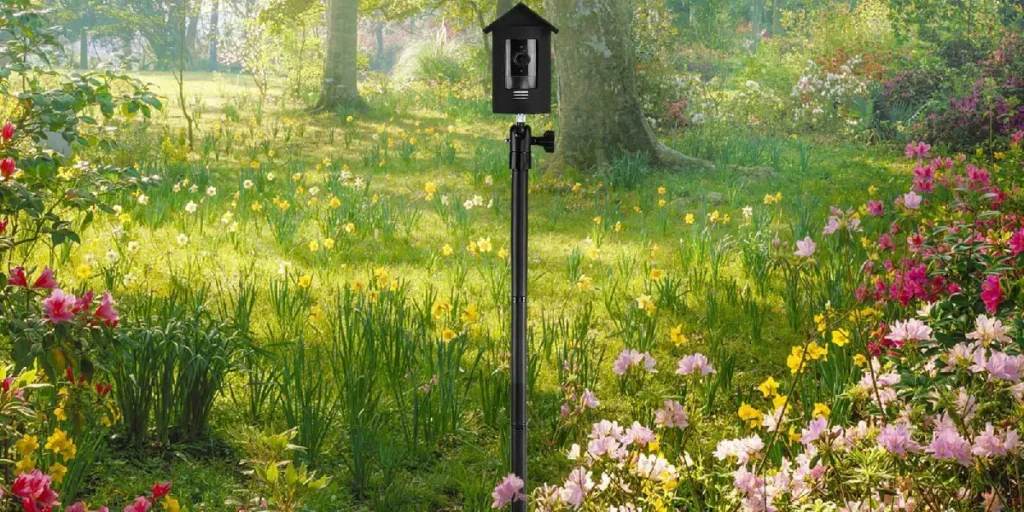 How about taking the installing Ring Stick Up Cam option entirely off the wall and roof and sticking the camera to the ground? Well, ground stake mounting exactly does that.
It's a great option if you want to watch out for what's happening in your backyard, especially when children are playing with pets or toys. With three 6.2 inches stackable metal rods, you always have the option to choose the height as you deem fit.
Similarly, you can rotate the camera up to 360 degrees, so you won't have to fix the mounting repeatedly. Also, it gives a 180-degree angle rotation option for the Ring Stick Up Cam. Remember that this ground stake mounting only works with Ring Stick Up Cam Battery 3rd generation.
Vinyl Siding Mounting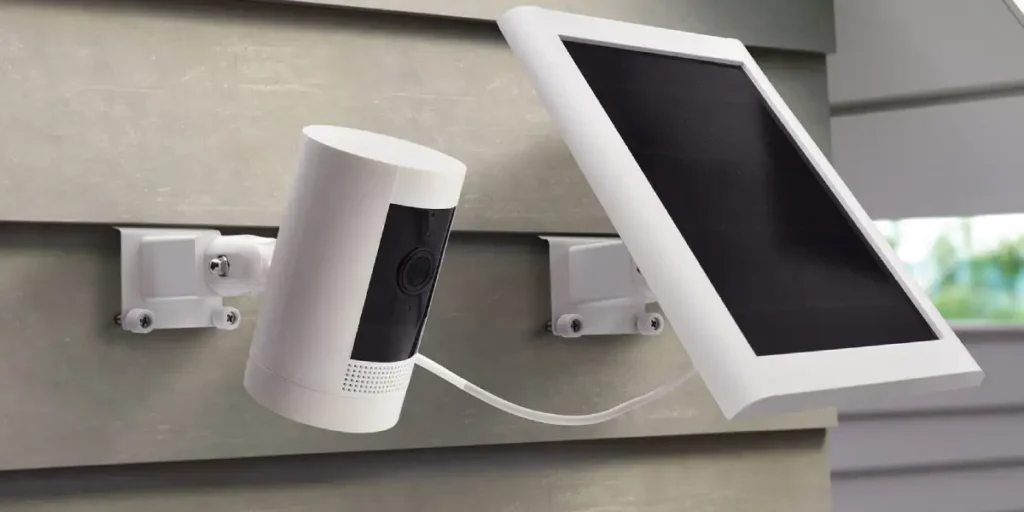 Recommended | How to Install Ring Camera On Vinyl Siding: Stick Up And Spotlight!
If you have vinyl siding instead of wall for your home, you can use the vinyl siding mounting option. You can easily clip the vinyl siding bracket into any seam, whether it's vinyl siding or aluminum siding. It is made of stainless steel, so it doesn't rust or stain your vinyl siding.
Wrap Up
The good thing about an easy-to-go and flexible security camera like Ring Stick Up Cam is that many flexible mounting options are available. So, if you are thinking of how to install Ring Stick Up Cam, you can choose above mention mounting rackets as per your personal choice and as per your home.
---
Read More on Ring Camera