When I started setting up my first Ring device, I had to confirm my address and assign a location on the Ring app. As someone who cares about privacy, I was hesitant to give out my location.
I kept wondering why Ring want to know where we are, what they do with that information, and if it was safe. Maybe you're in the same situation, but don't worry, Ring takes privacy seriously and implements measures to ensure the safety and security of your information.
Keep reading this post as it will explain everything clearly. Let's Dive In!
Why Does Ring Need to Access Your Location?
The Ring app requires access to your location for enabling the use of essential security features, facilitating faster and more convenient device setup, and grouping your Ring devices by location, which is especially useful if you have multiple properties.
Security Feature
Adding your location within the Ring app can provide you with security services and benefits based on the type of location you have. Below are some security benefits you can expect: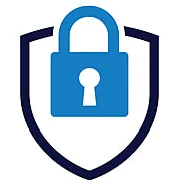 Imagine a fire breaking out in your home; In this emergency situation, every second counts, and prompt assistance is crucial. If you have Ring Alarm, then it becomes important to have your location set up because that is where cops or emergency responders will be sent.
Geofencing is another popular security feature that allows you to set up virtual boundaries around your home, and obviously, this feature utilizes your device's location to do so. Setting up these boundaries enables automatic actions or notifications based on your proximity to the defined boundary.
Based on your location, the Neighbours app from Ring, which promotes neighborhood safety, might give you crime warnings. By accessing your location, Ring can offer timely crime updates and alerts of suspicious activity from your neighborhood, keeping you informed about possible security issues in your area.
Ring sends you relevant app and email notifications based on the type of location you are in.
For example, if your home's location is set, you'll receive notifications about the neighborhood, home security, and other residential-specific info. However, if you choose a business's location, you'll get alerts that are relevant to business security issues, including employee access control or office break-ins.
Event Scheduling and Automation
Event scheduling is one of the security features that require location info to function properly.
As an example, for setting up motion scheduling on the Ring doorbell, or scheduling light on the Floodlight Cam, your Ring account needs to have an accurate address. This will help Ring to trigger these events based on your proximity to your home, ensuring that they occur at the right time and place.
Grouping Ring Devices
If you're monitoring multiple properties, the location feature can greatly enhance your experience. With the Ring app, you can easily establish each address you verify as a separate location, allowing you to group together Ring devices associated with each property for convenient monitoring.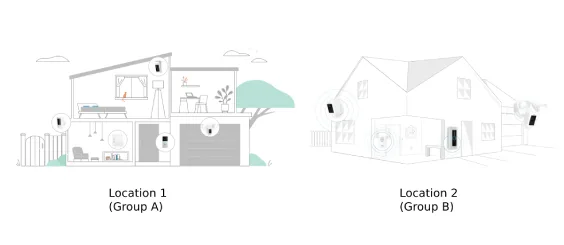 This powerful functionality ensures that you only see the devices you need to see at any given time. By specifying locations for your devices, switching between properties becomes a seamless process.
Faster Device Setup
You can set up your device more quickly if a location or address is registered to your Ring account. Every time you add a new Ring device, you don't need to manually enter your address.
For example, connecting Ring products to a Chime Pro requires location and address information. As you know already, Chime Pro acts as a Wi-Fi extender for Ring devices, enhancing their connectivity and range.
The location and address information helps Chime Pro in identifying the appropriate Wi-Fi network to connect to, as well as ensure that the Chime Pro is set up in the correct geographical location.
Is It Safe to Enter Your Address On the Ring App?
Entering your address on the Ring app can be considered safe in terms of information security based on Ring's privacy and security practices. The ring has stated that they are dedicated to the security of its users' information and do not disclose personal details, including addresses, to third parties.
However, it's important to remember that no system or app can guarantee absolute security. A report by TechCrunch says "Amazon's Ring Neighbors app exposed users' precise locations and home addresses."
Therefore, it is always wise to follow best practices when sharing personal information online. Keep in mind:
Ensure that you are using a secure and trusted network connection when accessing the Ring app.
Keep your Ring account credentials (username and password) strong and unique to minimize the risk of unauthorized access.
Regularly update the Ring app and any associated devices to ensure you have the latest security patches and features.
Be cautious about sharing sensitive info through the app's messaging features, as these communications could potentially be accessed by unauthorized individuals.
How to Hide/Delete Your Location from Ring App?
Of course, you can delete a location from the Ring app. Here's how you can do it:
Step 1: Open up the Ring app on your smartphone.
Step 2: On the top, select your desired location from the location dropdown menu.
Step 3: Once the location is selected, tap on ☰ the menu icon. Go to Settings.
Step 4: At the bottom of the list, tap the red 'Delete Location' option.
Step 5: Finally, Confirm the deletion and you're good to go!
Remember that once the location is deleted all of the Ring devices need to be deleted from that particular location or re-assign them to a different location. Also, keep in mind that you cannot delete a location if you've subscribed to Ring's Protect Plan.
What Features Won't Work Properly Without A Valid Address?
Your Ring account must have a valid address in order for all of the features of the Ring app to work effectively. For functions that won't work without location, see the table below:
| 👎 What Won't Work? | What Does It Do? |
| --- | --- |
| Motion Scheduling | Motion scheduling in the Ring app allows users to set specific times for motion detection alerts and notifications. |
| Emergency Services | Dispatching emergency services through Ring Alarm. |
| Light Scheduling | Light scheduling on the Ring Floodlight Cam allows users to set specific times for the floodlight to turn on and off automatically. |
| Setting Up New Ring Product | Setting up new devices requires a location to be assigned. |
| Ring Protect Plan | Ring Protect Plan is a subscription service offered by Ring that provides extended cloud storage for video recordings, professional monitoring, and additional features for Ring devices. |
| Ring Neighbors App | The Ring Neighbors App is a community-based app that allows Ring users to share real-time crime and safety information with their neighbors, fostering a safer neighborhood environment. |
| Connecting Other Ring Products to A Chime Pro | The Chime Pro device from Ring can be used to extend the Wi-Fi range. |
---
Read More On Ring