The great thing about Ring Video Doorbells is their performance regardless of external factors. They are not like decades-old security cameras, which had to rely on a constant power supply, and if the power was out, you lost all access to video footage.
You don't need a power source to make the doorbell work with Ring Doorbells. There are some situations, however, when you can face such a scenario. We will discuss the reason, and solution, so let's find out.
Understanding Ring Doorbell's Power Source
Ring Video Doorbells are available in 3 options; a built-in rechargeable battery, wired, or solar power to keep them running.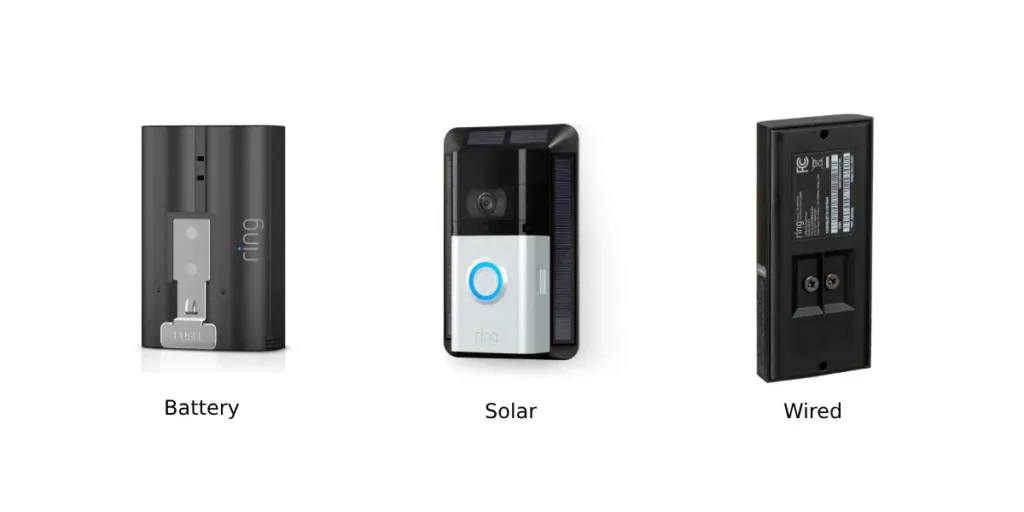 Rechargeable Battery: Ring Video Doorbell (2nd Gen), Ring Video Doorbell 4, and Ring Video Doorbell Plus have a rechargeable battery option.
Solar Powered: Solar-powered Ring Doorbells are another option, as the solar panel is specifically configured to recharge the Ring Doorbell. Ring Video Doorbell (2nd Gen), Ring Video Doorbell 2, and Ring Video Doorbell 3 can also run on solar panels.
Wired: The third option is a Wired Ring Doorbell, and they need a power supply as they cannot run on battery. Wired Ring Doorbells require an existing doorbell system, or you can use a Ring plug-in adaptor for the power supply.
Does Ring Doorbell Work If Power Goes Out?
Yes, the Ring Doorbell works even if the power goes out for battery and solar panel Doorbells. Also, you can go for the hardwired option to preserve the built-in battery as a backup solution in case the power goes out for any reason.
Let's Talk About Hardwired Ring Doorbells
Ring Doorbells rely on Wi-Fi, so if your internet connection is still working during the power outage, you will be able to receive live notifications, depending on how your internet is configured.
By connecting your modem/router to a backup power source and using a wireless Ring Doorbell with its own battery, you can ensure that it continues to work even during a power outage. As long as your cable service is active, this setup allows the system to function until the battery in the power supply runs out.
We can conclude that the Ring Doorbells functions are affected only if your Wi-Fi is interrupted. This scenario applies to both hard-wired and battery-powered Ring Doorbells as your device is unable to connect to the internet.
Let's Talk About Battery-Powered Ring Doorbells
Battery-powered Ring Doorbells aren't power hungry as a single charge can last 6-12 months, depending on your usage. For example, if you are using it for video recording most of the time, the battery will drain faster. Still, its battery lasts for months.
You will face the issue of a power outage with a battery-powered Ring Doorbell only if the Wi-Fi connection, which is connected to the power supply, is lost. As you use the Ring app to receive notifications and control your device remotely, you will not be able to do so if a Wi-Fi connection is lost.
What Happens When Ring Doorbell Loses Power?
If your Ring Doorbell has an insufficient or disrupted power supply, you can face abnormalities in Ring Doorbell's functioning. For example, your device may lose connection to Wi-Fi. When that happens, your device may freeze up during a live event, and night vision may not work.
In extreme cases, the device may turn off, and it may work fine for some time and then stops altogether.
Ring Doorbell Stopped Working After Power Outage (Reasons & Solutions)
Although power outages are quite uncommon but can still happen, what you can do is be ready if such a situation arises, but it's important to know the reasons so that you can fix the issue easily.
However, before jumping to a conclusion about a possible problem, it'd be better to pre-check first. You can do that by checking Motion Detection.
Ask anyone to stand in front of the camera and see if the Motion Detection sensor works, and you will receive a notification on the Ring app. If not, your Ring Doorbell stopped working after a power outage.
Low Voltage
Low voltage is one of the reasons Ring Doorbell doesn't work even after the power is restored. As per the specs, ensure the power should be at least 16 volts of AC power for the Ring doorbell to work properly. Please note that DC is not supported.
Check the Wi-Fi router
If the Ring Doorbell is functioning normally, but the status is showing offline on the Ring app, then the issue is with the Wi-Fi router. You may want to restart the Wi-Fi router and wait for a few minutes until your Ring Doorbell connects to Wi-Fi again.
Unplug The Power
If the issue still persists, you should unplug the wires from the Ring Doorbell and plug them in again. When your Ring Doorbell starts again, wait a few minutes until it connects to the network.
Reset The Ring Doorbell
If you are still facing the issue and not receiving notifications even after the power is restored, you will have to reset the Ring Doorbell. When you reset the Ring Doorbell, the device is set to default factory settings, and you should do that only as a last resort.
If you don't know how to reset the Ring Doorbell, follow the steps below:
Remove the Ring Doorbell from its bracket by unscrewing the screws.
For 10-15 seconds, press and hold the orange setup button on the back of the device.
The white light on the front of the Ring Doorbell will start flashing before turning off, indicating that the reset is complete.
Wrap Up
There are many people who complain that their Ring Doorbell stooped working after a power out, but you needn't worry, as power outages don't happen frequently. If they do happen, your Ring Doorbell starts working normally once the power is restored.
It is only in extreme cases that you will face the issue of the Ring Doorbell not working after a power out. To resolve the issue, ensure your Ring Doorbell follows the basics. After that, you can troubleshoot your device as discussed above or contact Ring customer support for further professional help.
---
Read More On Ring Doorbell