Do you know which Ring doorbell you've installed? The majority of the time, it doesn't matter. But if you're upgrading your Ring doorbell or want to use a feature that requires a specific model, you'll need to know.
Luckily, Ring officially lets you check your doorbell model through its companion app. To check your doorbell model seamlessly, Open Ring App > Tap Devices > Select Your Doorbell > Device Health. Under Device details, you'll find your Ring doorbell's product name. Isn't that easy?
Besides this, there are a few other ways to find out which Ring doorbell you have. Keep reading this post to explore different ways to tell which Ring doorbell you have. Let's Find Out!
5 Ways to Tell Which Ring Doorbell You Have
Check Device Details On Ring App
Connecting your Ring doorbell to the Ring app makes it easy to identify your Ring doorbell model. The Ring app has a specific page to tell your product's name, mac address, firmware version, etc. If you wish to check your Ring doorbell model conveniently, I recommend you use the Ring app.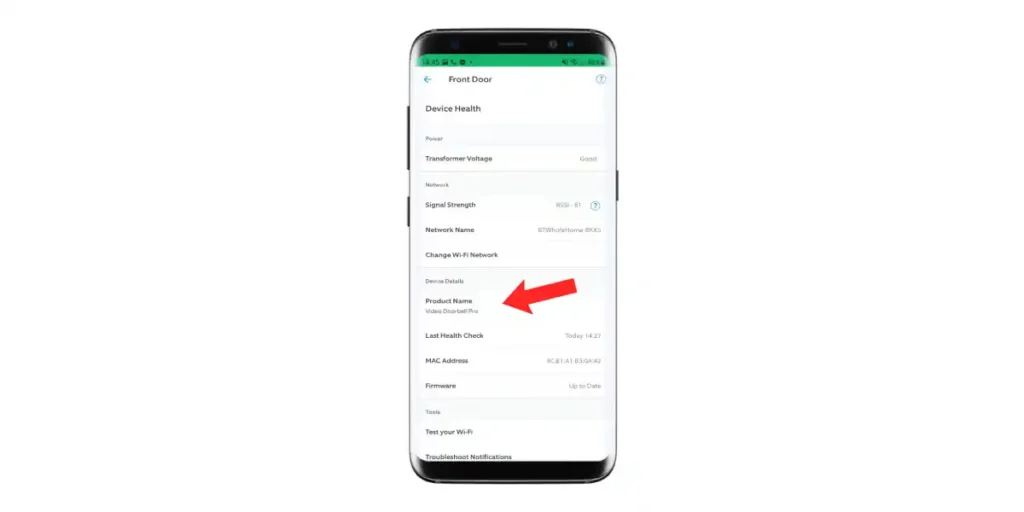 Here's how to find your Ring doorbell's details through the Ring App:
Open the Ring App and ensure your doorbell is paired with the app.
Tap the hamburger (☰) icon on the top left.
From the menu, Select Devices.
Tap on your paired Ring doorbell.
Next, Select the Device Health option.
Locate Device Details, and check which Ring doorbell you have.
Check Product Name On Device's Back
You can also find your Ring doorbell's model name listed on the device's back. Usually, the rear side of the Ring doorbell has a label with details like the product name, model name, serial number, power input, etc. To be more precise, it should be at the bottom of the device when you turn it to the backside.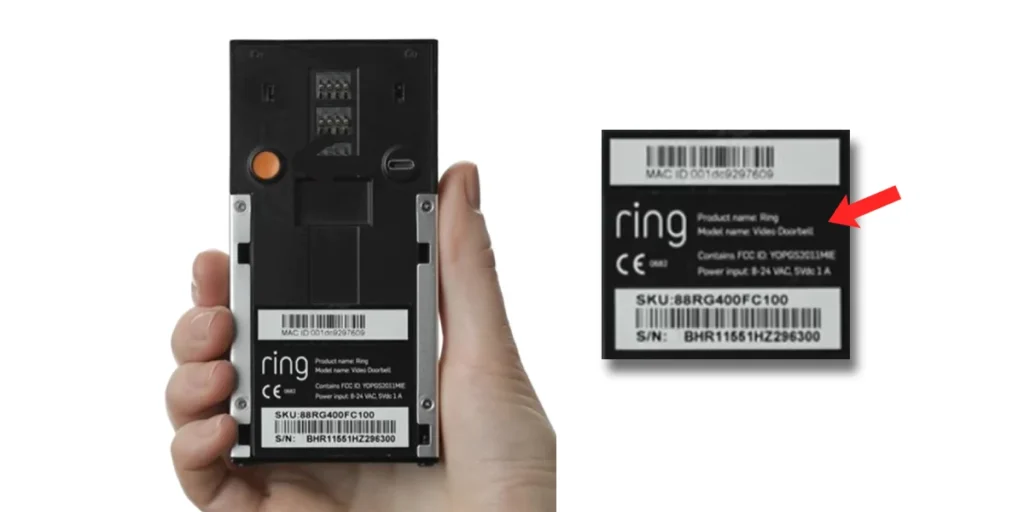 Note: If your doorbell is mounted on a wall, it needs to be removed first to access the label. 
Ask In Ring Community Groups & Forums  
Community forums and groups are a great way to get feedback on what you are looking for because they are the places where people with similar interests can post questions and respond about their topics.
In my experience, I've seen many forums and groups where people talk about Ring devices. For Ring users, there's an entire community where they can discuss everything Ring. So how can these platforms help you?
As discussed, such platforms' primary goal is to help each other and resolve issues. If you have trouble identifying your Ring doorbell model, you can take a picture and post it, seeking help. Several Ring doorbell owners will notice this picture, and the one who identifies the model will reply.
Below is an example from Reddit –
Here's a list of Ring communities to get help:
Compare Design With Other Models
The design of the Ring doorbell can also help you determine which one you have. Because each doorbell's front layout varies depending on the model and manufacturer. For example, while the ring pro and pro 2 look similar, their placement of cameras allows them to be differentiated.
Similarly, Ring's 1st gen and 2nd gen doorbells have similar looks, but their camera designs differ. On the 1st gen doorbell, the camera container is circular, whereas, on the 2nd gen, the camera container is wide.
For your convenience, the image below contains all Ring doorbell models, which you can compare side by side with the doorbell you own to identify its model name. So save this image and start comparing.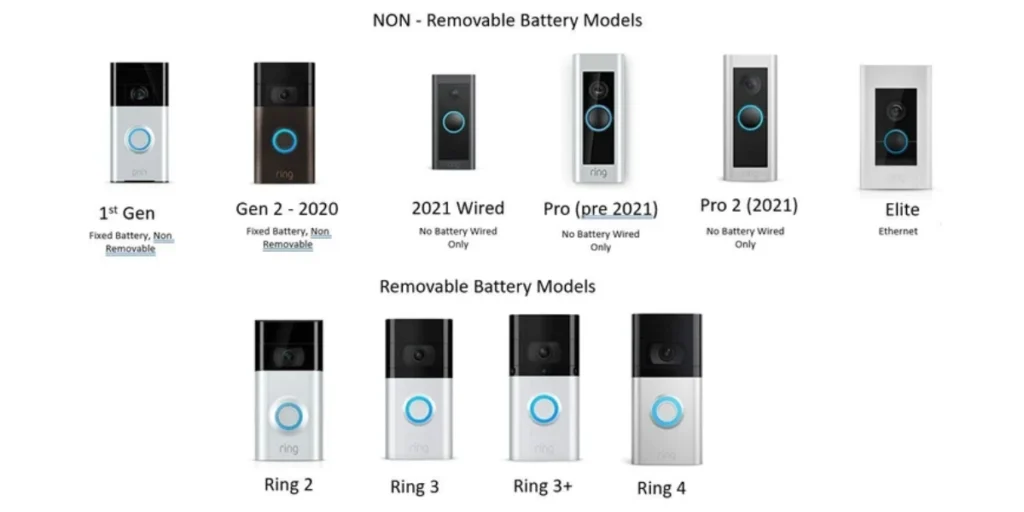 Contact Customer Support
Lastly, all you have left is to ask for help from customer support. The Ring's customer support team is available 24/7, 365 days a year. They help with all sorts of problems, including technical difficulties and installation issues. They are also available for general questions about the product and how it works.

Contact the company and let them know you can't identify your doorbell model. They may ask you to share your serial number or device image so that they can run some checks and identify your device.
Click Here to Get In Touch With Ring Support.
---
Read More On Ring Doorbell