While there isn't a specific Smart TV application available for Ring Cameras and Doorbells, you have the option to access your Ring Camera feed by integrating with platforms such as Alexa, SmartThings, and Roku.
It's true that I can't download the Ring app on my Smart TV, but I found ways to see my camera feed on the big screen. I accessed Ring from my TV, which required having a TV with smart home capabilities or a standard TV connected to an external streaming media player.
I ensured that whatever device I used was compatible with smart home assistants like Alexa, Roku, or SmartThings. This way, I could enjoy my Ring camera feed on a larger display.
Is There a Dedicated Ring App for Your Smart TV?
Ring, a brand known for its smart home security products, including video doorbells and cameras, did not have a dedicated app specifically designed for smart TVs. The Ring app worked on phones and tablets, letting users control their Ring devices.
4 Compatible Smart TVs to Monitor Ring Device
LG Smart TVs
If your LG Smart TV can work with Alexa, you can connect your Ring Camera and LG TV to the Alexa app. Then, you can see what your camera sees on your TV.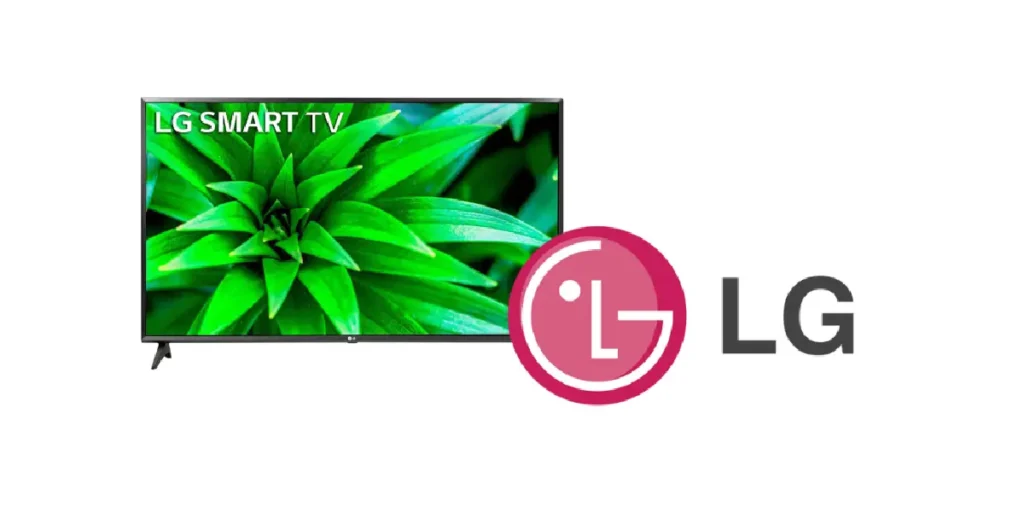 To do this:
If both your devices are connected to Alexa, get the Alexa app from the LG Content Store.
With the Alexa app, you can talk to Alexa using your voice. You can say, "Alexa, show my Ring Camera on the TV."
For example, you can say, "Alexa, show me the front door on the living room TV."
Samsung Smart TVs
Samsung Smart TVs manufactured after 2016 can work with SmartThings. You can also use the Alexa app to see your Ring cameras on a Samsung TV. However, I think using SmartThings is better. SmartThings shows all your cameras on the TV screen, and it's easier, in my opinion.
Here's how to connect Ring cameras to SmartThings: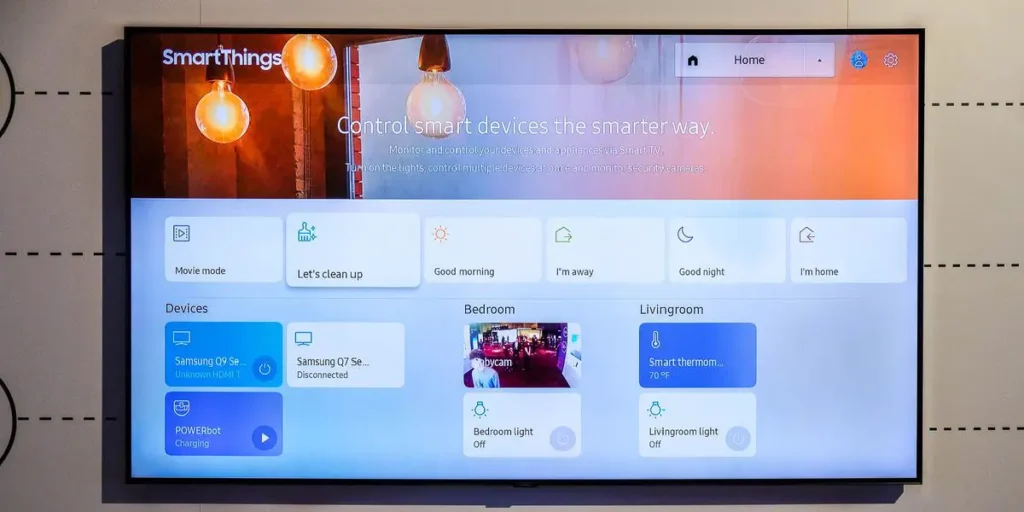 Open the SmartThings app on your phone.
Tap the plus icon in the top left to open the menu.
Choose "Add Device."
Scroll down and pick "By brand," then choose Ring.
Tap "Link account."
Pick the place and tap "Next."
Follow the steps and tap "Authorize." Ring will add all your cameras to SmartThings. Tap "Done."
To see your Ring camera on your Samsung TV:
Open the SmartThings app on the TV.
Look in the "Quick Launch" menu for your Ring Camera's live view option.
If you go into your Ring Camera settings in the SmartThings TV app, you can turn on Motion Alerts. This makes the Camera feed show up on the TV when there's motion.
ROKU Smart TVs
Every Roku device can work with Alexa if you update it to the newest software version.
Once your Roku player is updated, you can connect your Roku device and Alexa. Then, you can use your voice to tell Alexa to show your Ring Camera on your Roku TV or its main screen.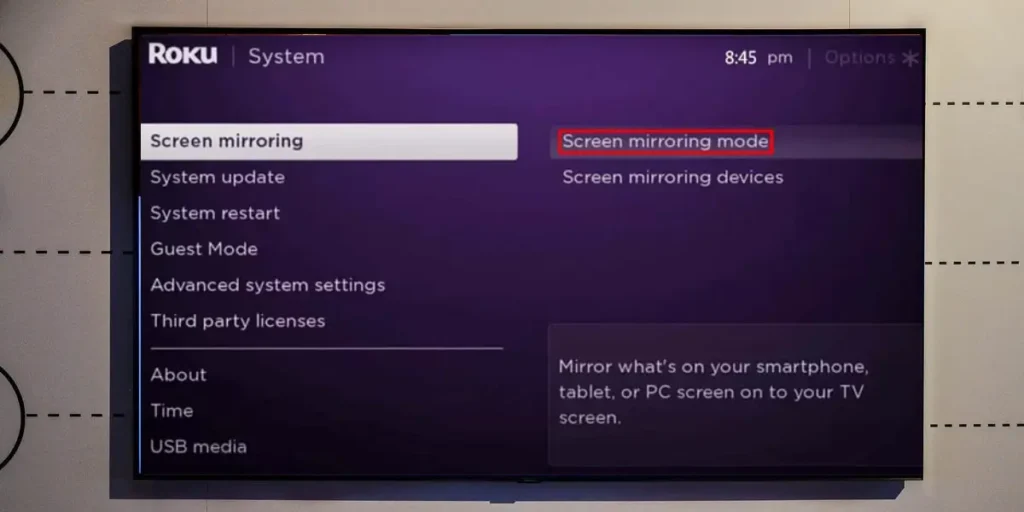 All you need to do is turn on the Roku and Ring Skills in the Alexa app and then make both devices connect to Alexa.
After that, you can say, "Alexa, show Ring Camera on Roku," and you'll see what your camera sees in real-time.
Amazon Fire TV and Fire Sticks
Because Amazon makes both Alexa and Fire TV, it's simple to see what your Ring Camera shows on an Amazon Fire TV or FireStick.
Here's what you need to do: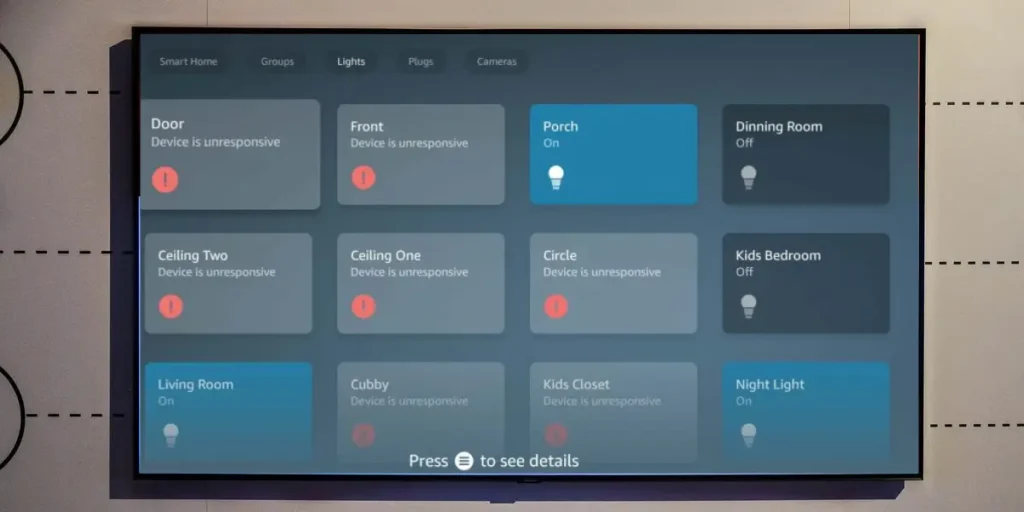 Put the Ring Skill into your Alexa app and make your camera connect.
Press the microphone button on your Fire TV remote and say, "Alexa, show my Smart Home Dashboard."
From the Smart Home Dashboard, choose "Cameras."
Pick the Ring Camera you want to see.
You can also make a smaller video show up in the corner of your screen if you have FireStick 4k Max, Fire TV Cube 2nd Generation, Toshiba 4k Fire TV, Insignia 4k Fire TV, Fire TV 4-Series, Toshiba M550 Series, Fire TV Omni Series, and Fire TV Omni QLED Series.
Can You View Ring Device On Google and Android TVs?
The integration between Ring and Google Home has been removed and appears to be currently unavailable. There seems to be ongoing competition between Google and Amazon/Ring. If the integration option becomes available again, I'll update you on this matter.
Please remember that the availability of apps and features can change over time. I suggest checking the official Ring website, app stores on your TV platform, and any relevant support documentation for the most accurate and up-to-date information on setting up Ring devices with your specific smart TV.
⭐ Best Alternative: Get an Amazon Echo Show
If you're looking for a seamless and dedicated solution for monitoring your Ring devices, getting an Amazon Echo Show is an excellent alternative to a smart TV.

Here's why an Echo Show could be the perfect pick for monitoring your Ring devices:
The Amazon Echo Show is designed to seamlessly integrate with Ring devices, creating a streamlined experience. It's an official product of Amazon, the parent company of Ring, which means you can expect a high level of compatibility and functionality.
The Echo Show features a dedicated screen optimized for displaying live video feeds from your Ring cameras and doorbells. This provides a clear and convenient way to monitor your home's security in real time without the need to navigate through apps on a smart TV.
Echo Show devices are equipped with Amazon's voice assistant, Alexa. This allows you to use voice commands to view live video feeds from your Ring devices. You can say, "Alexa, show me the front door camera" to instantly see who's at your door.
Echo Show devices can display notifications and alerts from your Ring devices directly on the screen. This means you can quickly see if there's any motion detected or someone ringing your doorbell without needing to check your smartphone or TV.
Many Ring devices support two-way audio communication. With an Echo Show, you can see the live video and communicate with whoever is at your door, providing an added layer of convenience and security.
Echo Show also acts as a smart home hub, allowing you to control other compatible smart devices using your voice or the touch screen. This integration can further enhance your home automation experience.
With an Amazon Echo Show, you can effortlessly monitor your Ring devices and enhance your home security. The dedicated screen, voice control, and integration with Ring devices make it a convenient and effective solution. Its enhanced smart home features make it a versatile addition to your home setup.
See Also | List of Ring Doorbell Compatible Monitors (4 Monitors That Work)
Wrap Up
You see, the Amazon Echo Show is the perfect choice if you're seeking a dedicated and efficient solution for monitoring your Ring devices. Its seamless integration with Ring, dedicated display, voice control, and added smart home capabilities offer a convenient and secure way to enhance your home security.
Don't miss the opportunity to elevate your monitoring experience – invest in an Amazon Echo Show today for peace of mind and enhanced convenience.
---
Read More On Ring App